Teamwork, Trust and Personal Disputes
Thursday, November 1, 2018
By: Christina Schweighofer
In a collaboration with the LAFD, the Mediation Clinic helps resolve conflicts between firefighters
Looking to address personal conflicts in the workforce without disciplinary action, the Los Angeles Fire Department in 2016 turned to USC Gould's Mediation Clinic. "We wanted to provide an avenue to resolve workplace issues and disputes in a manner that fostered better communication and stronger relationships between members," said Fire Battalion Chief Linda Cessor of the LAFD Professional Standards Division.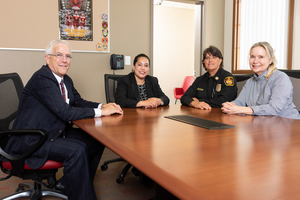 (l to r): Jim Sullivan (MDR 2018); Alex Vazquez-Sherman of the LAFD; Fire Battalion Chief Linda Cessar and Maureen Maloney (LLM in ADR 2018)
The timing was ideal, since the Gould School of Law was just getting ready to greet its inaugural class of students studying to obtain specialized advanced degrees and certificates in Alternative Dispute Resolution. With the collaboration well underway, the USC mediators and the representatives of the Fire Department now agree on its efficacy.
They are also aware of the singular character of mediations within fire departments, where the often dangerous, stressful nature of the work and shared living quarters make it crucial that people work together well. "Teamwork and trust are essential for success," Cessor said, adding that firefighters "will always put their personal feelings aside to ensure the safety of the citizens they serve." With the mediation program, firefighters now have "an avenue to address their own well-being in addition to meeting the high demands of the job."
USC Gould graduates Maureen Maloney (LLM in ADR 2018) and Jim Sullivan (MDR 2018) recently helped resolve two LAFD conflicts for the Mediation Clinic. Maloney said that a pre-mediation briefing by Cessor and Fire Special Investigator Alexandra Vazquez-Sherman on the organizational structure of the LAFD helped her resolve a dispute between two female firefighters.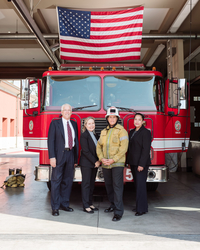 (l to r):Jim Sullivan (MDR 2018); Maureen Maloney (LLM in ADR 2018); Fire Battalion Chief Linda Cessor and Alex Vazquez-Sherman of the LAFD
Comparing her LAFD experience with previous small claims mediations, she spoke of "a very different dynamic."
"This clearly isn't about money," she said. "It's about repairing or even restoring a relationship. Because in many cases firefighters not only work together, they live together." She expects the mediations to create a ripple effect where the larger organization benefits as much as the participants.
Sullivan said about one of his LAFD mediations — it involved two male firefighters of similar tenure but very different rank — that the process allowed both parties to be candid about their experience of the dividing issue. What he saw was "two guys, both close to 60, opening up in a way that men of that generation and in that line of work just don't do."
With his support, the two parties settled the dispute and even reconciled. Sullivan attributes the expediency of the process to a few factors. The mediation was voluntary and confidential, and each party entered it, as Sullivan said, "already committed to settling so they could put the dispute behind them and get back to being firefighters."
Maloney and Sullivan — she is a licensed attorney and business consultant to financial service firms, he a commercial real estate broker transitioning into mediation services — agree that mediations are life changing not just for the parties but also for the person facilitating between them. "Every mediation has given me something of value," Sullivan said, "things I have taken into my personal and professional life."
According to Cessor, the LAFD explored "a number of options" before settling on USC Gould for a mediation collaboration. "It was determined that the USC Gould School of Law Mediation Clinic could provide a professional, collaborative and beneficial relationship with the LAFD," she said. Cessor and Vazquez-Sherman reported of the mediations conducted so far that the LAFD "has received extremely positive feedback regarding the expertise and professionalism of the mediators."
Professor Lisa Klerman, the director of USC Gould's Mediation Clinic, is excited about partnering with the LAFD to help resolve their workplace disputes. "Our Advanced Mediation Clinic at USC has developed an expertise in resolving employment disputes and has a robust caseload that it handles with the EEOC and the Department of Fair Employment and Housing, so the LAFD program is a natural fit."
To learn more about USC Gould's Judge Judith O. Hollinger Program in Alternative Dispute Resolution, email us at adr@law.usc.edu or sign up to receive program news.
RECENT NEWS
Worth the Risk
May 28, 2019
Meet Allyson Sonenshine (JD 1996), an entrepreneur and women's health advocate in Orange County