Encouraging Innovation
Wednesday, November 21, 2018
Prof. Jonathan Barnett keeps a bird's eye view on media, entertainment, and technology law trends
By Greg Hardesty
For six years, he had to wear them as a corporate attorney on Wall Street, where he worked on such contract-heavy business negotiations as mergers and acquisitions and private equity deals.
During his seven years at the helm of MET, the program has thrived with a constantly evolving curriculum designed to keep students on the cutting edge of media, entertainment and technology law.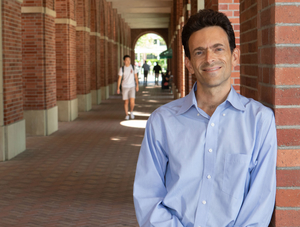 Prof. Jonathan Barnett
And Barnett's experience as a corporate lawyer — "the intellectual equivalent of building a Lego set," he explains, "like moving boxes around to create different structures for clients" — has kept the curriculum "practice relevant" and has helped prepare students to hit the ground running once they graduate.
"One of our guiding philosophies is we try to deliver courses that are academically rigorous, but also match up with the kind of skills students need to succeed in practice," says Barnett, who joined the USC Gould School of Law in fall 2006. "Our students can deliver value to employers and clients from day one."
"One of the reasons, for instance, that we recently added an Information Privacy course is that we noticed there were many law firms and in-house legal departments who now are seeking lawyers who are full-time privacy lawyers," Barnett says.
Barnett has been able to secure some big names in the media and technology law fields to teach ripped-from-the-headlines courses on such topics as information privacy and digital media transactions.
In one entertainment law course that underscores the real-world thrust of MET's curriculum, students spend an entire semester working through the documents needed for a hypothetical independent producer who wants to finance, produce and distribute a motion picture. The class is taught by
Alan Levine
(JD 1971), former president of Sony Pictures.
"It gets them right into the weeds of the contracts," says Barnett, who received a law degree from Yale University. "It's not something you typically do in law school," he adds. "But that's a signature, really representative type of course of the MET program."
And in February 2019, MET will host a patent reform event that will bring together leading empirical researchers in patent policy with judges and regulators from federal agencies, as well as business leaders.
"We want to grow the thought leadership component of the MET program and create events that allow academia to interface with business people, legal practitioners and policy makers, and vice versa," says Barnett, who grew up in a suburb of Philadelphia but always was interested in living on the West Coast.
"There's been an active debate concerning patents for at least a decade," Barnett says. "For example, are there too many patents? Are patents too strong? Are they promoting or discouraging innovation?"
USC Gould's Media and Entertainment Law certificate program, which has grown continuously since its launch in 2010, currently has 53 JD students and 108 LLM students. The online version was launched in August 2017.
In one class in the program, Richard Friedman, of counsel at DLA Piper LLP, teaches the ins and outs of technology transactions.
"So you've got a startup company that wants to monetize their R&D [research and development]," Barnett says. "They have venture capital investors, and there are very unique structures for those investments. The students get pretty deep into the numbers and governance issues to work out the deal with the hypothetical investors."
One of Barnett's legal specialties is intellectual property. "IP courses typically focus on litigation and dispute resolution," Barnett says. "We cover that as well, but we also cover the business side. The key difference we try to draw out for students is that if you're in a dispute situation, it's a win-lose situation. There's one slice of pizza left. Either I eat it or you eat it, right?
"But when you're in a business law situation, we're at the start of a relationship. So we're on friendly terms. Otherwise, why would we want to do a deal? That's a win-win situation. We're trying to build the pizza pie.
"Working with contracts is not just about learning the contractual jargon. That's probably the easy part. The other part is trying to learn how to negotiate deals, which is about coming to a reasonable split of that pizza pie."
RECENT NEWS