JD Class of 2019 Graduates
Tuesday, May 21, 2019
Dean Andrew Guzman urged new alumni to remain people of "high character"
By Anne Bergman
Three years sure flew by fast.
That was the commonly shared sentiment among the 225 juris doctor recipients at the May 10 Commencement ceremony held at the University Village.
During those three years, the future lawyers studied furiously while forging lifelong friendships and reaching high achievements.
Addressing the graduates, their family and friends, Dean Andrew Guzman highlighted some of the 2019 graduates'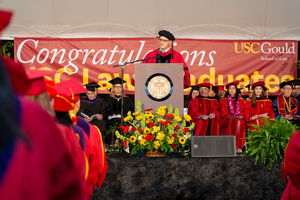 Dean Guzman addresses graduates
"firsts," including the first Gould graduates named to the California Attorney General Honors Program; for the Federal Communications Commission Attorney Honors Program; and for the
Immigrant Justice Corps Fellowship
.
Guzman urged the graduates, "to remain a person of high character…. That way, you can always be proud not only of what you do but also who you are."
He also reminded the Class of 2019 that, "With the privilege of this degree comes an obligation to make sure respect flows from you more than it flows to you. To borrow the words of Winston Churchill, 'We make a living by what we do. We make a life by what we give.'"
This year's guest commencement speaker had a familiar face, Prof. Scott Bice. Bice, who earned his JD from Gould in 1968, also served as dean of the law school from 1980-2000.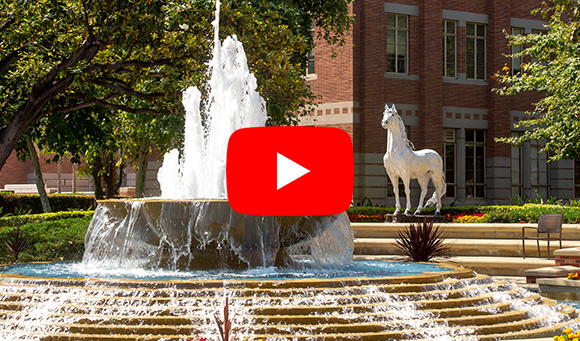 "I sat where you now sit about 50 years ago," he said. "What I hope that you take away from what I have said today is an appreciation for the central role you, and those who have preceded you, have played in the excellence of our enterprise."
Bice, a foremost legal expert in torts and Constitutional Law, shared with the audience of graduates, their friends and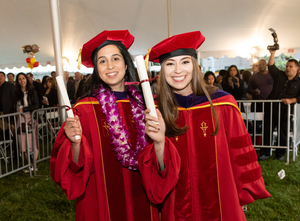 Triple Trojans Tiffany Yadegar and Janet Shamillian both delivered remarks at the JD ceremony.
families that he'd taught three decades of law students, relating with humor, a conversation he shared with one of his students. "A couple of years back, a first-year student introduced herself and said 'my grandfather took this course from you,'" he recalled.
The commencement ceremony also featured remarks from the president of the third-year law class, Tiffany Yadegar, as well as remarks from Janet Shamilian the SBA president. Both speakers are Triple Trojans. Yadegar earned a BA from USC in Sociology and a dual JD and Master of Business Taxation degree.
"Law school was intense, stressful, fun, rewarding, educational, and fulfilling all at the same time," she said. "But we couldn't have done it without our support systems, whether it was our parents, siblings, families, friends, mentors, or significant others. All of you played an important part in our accomplishment and I want to thank you for that."
Shamilian, who earned a Bachelor's in Political Science, with a minor in Leadership, and a Master of Public Administration from USC, shared how she found Gould's community to be "supportive" with a "high degree of human decency."
Shamilian noted that collegiality among law students was encouraged from orientation and all the way through to commencement. "We were told to help one another and work together," she said.
"Congratulations!" she concluded. "Now let's get to work!"
RECENT NEWS