Putting military veterans in business
Monday, November 11, 2019
USC Gould Small Business Clinic partnership benefits both law students and USC Marshall Master of Business for Veterans (MBV) program students.
By Greg Hardesty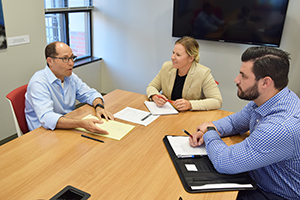 Prof. Michael Chasalow (left), director of the USC Gould Small Business Clinic, goes over a business idea with Taylor Wright (JD 2021) and Marshall School student Erik Ransdell.
Prof. Michael Chasalow, who runs the USC Gould Small Business Clinic, describes himself and his students as the "wear-your-seatbelt'' people.
"We're not the fun people at the party," he says with a smile. "We want to talk about how to protect yourself if things go wrong."
Chasalow and the 2L and 3L law students in his Small Business Clinic are strapped in tightly for a new partnership with the Master of Business for Veterans (MBV) program run out of the USC Marshall School of Business.
Valuable legal guidance for veterans
In a win-win for both schools, law students in the clinic who plan careers in transactional law get hands-on experience helping MBV students with such things as forming LLCs and corporations, drafting shareholder agreements, and working on agreements between business partners – kind of a prenup for entrepreneurs.
MBV students, meanwhile, get valuable, free legal guidance on planning their businesses, ranging from coffee shops and consulting firms to companies providing manpower and intelligence services to the federal government.
"Many people go to law school and learn a lot of theoretical stuff, and then get in the real world and ask, 'Wow, what do I do now?'" says Chasalow, who formed the Small Business Clinic in 2007. "Eventually, good lawyers learn the practical skills for themselves. We're just doing it earlier in the process."
The partnership sprung from an email an MBV student sent Chasalow a year and a half ago suggesting connecting law students with veterans.
A perfect complement
James Bogle, program director of Marshall's MBV program, which currently has 91 students whose average age is 36, called the relationship with the Small Business Clinic a "tremendous facilitator for our students."
"They are really grateful for this opportunity," said Bogle, who served in the U.S. Army for 25 years and has run the MBV program since its inception in 2013.
"The clinic is really a perfect complement to what we're doing at Marshall to help our students take advantage of some of those opportunities," Bogle added. "There are two families at play here. One is the Trojan family, and the other is the family of those who have served in uniform. And when you combine those two, it makes for a very strong bond."
The impetus for the partnership sprung from an email an MBV student sent Chasalow a year and a half ago.
Nate Sussman is in his final year at USC Gould. He participated in the Small Business Clinic his second year to learn more about transactional work. Working with veterans added an extra dimension to his law school experience.
"There are relatively few opportunities to gain experience in this area during law school," Sussman said. "So far, the clinic has provided an invaluable opportunity to experience one-on-one contact with business clients across a variety of industries."
Sussman added: "Because veterans tend to be exceptionally driven and focused individuals, they are excellent clients. Also, their projects present novel challenges for law students because their entities often need to be structured in a specific way to allow them to work under special government contracts."
The legal documents need to say the right things in order for veterans to qualify for such contracts, Chasalow explained.
"We look forward to completing more projects for MBV participants in the future," Sussman said.
RECENT NEWS