The Lifetime Professor
Monday, June 15, 2020
USC Gould celebrates Thomas Griffith, John B. Milliken Professor of Taxation, for more than 30 years of leadership and commitment to students
By Larissa Puro
Thomas Griffith has been teaching for almost as long as he can remember. Now, after more than three decades as a professor at USC Gould School of Law, he is stepping out of the classroom to pursue a new life chapter: retirement.
An award-winning professor who facilitated the school's academic support program, Griffith has enjoyed helping students from all walks of life realize their potential to succeed in law school.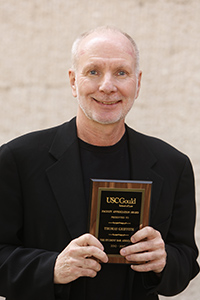 Award-winning professor Thomas Griffith has a passion for helping students excel.
"I feel, for many students, taking academic support courses allowed them to demonstrate the understanding of law they already had," he says. "It wasn't that I was teaching them things they didn't know, but teaching them how to successfully transfer what they knew to a successful exam essay."
Griffith realized teaching was his calling when, as a high school student, he helped teach his grandmother's summer school classes. After graduating from Brown University he took a teaching job at a high school in Connecticut, and after seven years he decided to give something new a try: law school. He enrolled at Harvard University the following year, his sights set on becoming a law professor.
For all three years of law school, he found time to teach — as a teaching assistant for undergraduates and a legal writing instructor. After graduating he accepted an associate position at Hill & Barlow in Boston, Massachusetts, before joining the USC Gould faculty in 1984.
At Gould, Griffith specialized in income tax and criminal law and taught courses in contracts, corporate taxation, criminal law, criminal procedure and federal income taxation.
His early research focused on tax law through a lens of social justice. Reflecting USC's spirit of interdisciplinary scholarship, he wove insights from moral philosophy into tax law — "which was not prominent before he brought it here," says Scott Altman, Virginia S. and Fred H. Bice Professor of Law.
Griffith's published works include explorations of racial and socioeconomic bias in the criminal justice system, and happiness as a gauge for the optimal level of income redistribution.
His 1987 paper "Social Welfare and the Rate Structure: A New Look at Progressive Taxation" in California Law Review, co-authored with Joseph Bankman, analyzes arguments against progressive taxation and proposes a new model to calculate the most desirable tax rate. It ranks fifth among the most-cited tax articles of all time.
A Pillar of Support
Helping students excel in law school became a passion for Griffith. When he arrived at USC Gould, there was little academic support, he says. "We didn't have full-time staff for students who didn't do well their first semester. Some students come to law school and don't know how to take law school exams. It has little to do with the lack of ability, they just weren't sure what's expected for a law school exam."
He began voluntarily teaching a weekly tutorial and its success led USC Gould to formalize support efforts into its academic programs. Together with Emeritus Professor Rob Saltzman, Griffith spearheaded the school's academic support program to help students effectively study for, and take, law school exams. The result was improved grades and rising bar passage rates.
In 2009 Griffith received the school's William A. Rutter Distinguished Teaching Award and in 2014 he was honored with a USC Associates Award for Excellence in Teaching.
As a mentor, Griffith is an enduring inspiration for his students, including alumna Michelle Layser (JD 2009), who worked with him on an independent tax research paper while she was a student.
"Tom was the first to show me how tax law is inextricably linked to the values and structures of our society," Layser says. "That basic insight and approach to studying tax law has deeply influenced my own scholarship, and I feel confident that I simply would not be where I am today — a tax professor at University of Illinois College of Law — if not for Tom."
Driving diversity
Griffith's legacy includes shaping USC Gould into a welcoming and attractive place for students of all economic, racial and underrepresented backgrounds, says University Professor Alexander Capron. "His methods and thinking are in our DNA here."
As Gould celebrates its 120th year, Griffith says he is impressed with many positive changes at the school and university — most notably an increase in diversity.
"When I came here there were very few people of color among students," he says, remembering a time in the early 1990s when the number of students of color jumped into the double digits. "That's been a major improvement, and not just in the sense of fairness, but it improves the educational experience for all students to have a diverse student body."
He also notes growth in the number of women at the school — there is now gender parity among students at USC Gould.
One thing that has stayed the same, though, is the caliber of the students, he says. "I think people have the same goals, traits and needs as when I came in. They were great back then and great now."
Griffith leaves behind an indelible legacy at USC Gould as an educator, mentor, leader and scholar, says Dean Andrew Guzman.
"We owe Tom a great deal for the time and effort he has invested to help us build and sustain excellence at Gould…. While we are very happy for Tom as he begins a new chapter of his life, it is difficult to say farewell to a colleague and friend who has been so integral in shaping the law school into the place it is today."
Griffith says he will miss teaching but is looking forward to stepping away from the classroom and into a new house he is building with his wife in Washington, next door to their best friends.
Looking back on his professional journey, he says, "It certainly has been a dream career for me."
RECENT NEWS