Three clients freed from California prisons

USC Gould School of Law
Thursday, July 9, 2020
- By Alexandra Zarchy
This story is excerpted from USC Gould's Post-Conviction Justice Project. Read the full story at pcjp.usc.edu.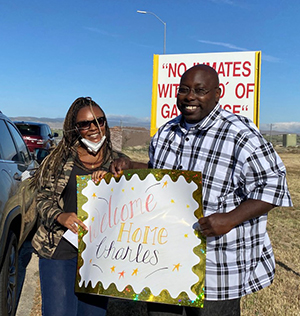 Ashley Smith (JD Class of 2021) and Charles on the day of his release (Photo / PCJP)

As Black Lives Matter draws national attention to the pervasive systemic racism of the U.S. criminal system, USC's Post-Conviction Justice Project continues to work on the front lines, in June freeing three life-sentenced clients from state prisons.
Clients Allen, Celia and Charles received life sentences for crimes they committed as teenagers and spent 84 years combined in California prisons. Each expected to die in prison, but put in the hard work to rehabilitate and become positive members of their communities. Through their dedication and PCJP's advocacy, they are now free with high hopes for doing good in the world.
"Our criminal system disproportionately affects communities of color, especially Black and Brown communities. At PCJP, we have long believed that these lives matter — Black Lives Matter. And that they are worth fighting for," said Heidi Rummel, clinical professor of law at USC Gould School of Law and PCJP co-director. "Our representation of our clients restores their humanity and their dignity, demanding that the criminal system recognize that each of us is more than the single worst choice we have made in our life."
RECENT NEWS