Continuum of Care

USC Gould School of Law
Tuesday, November 24, 2020
Boyd Rutherford, JD 1990, the lieutenant governor of Maryland, focuses on state health issues after a career in public service at both the federal and state level
By Christina Schweighofer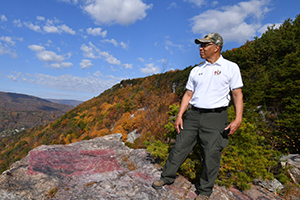 On September 11, 2001, Boyd Rutherford, JD 1990, was exactly one week into his position as associate administrator of the United States General Services Administration. In his office just two miles from the Defense Department in Washington, D.C., the TV was on. As he watched coverage of the terrorist attacks in New York. Suddenly the GSA building shook. Outside his window, a plume of smoke rose to the sky. A hijacked commercial airliner, American Airlines Flight 77, had hit the Pentagon.
Rutherford, who now serves as lieutenant governor of Maryland, remembers how proud he felt of the federal response that followed.
"In that first week at GSA, I saw the federal workforce come into their glory," he said recently during a conversation about his initiation into public service after a decade of practicing law. "It was exactly what you hope to see from emergency management and gave me a much broader appreciation of public servants."
Working together with FEMA, General Services found computers, desks, phones and workspace for more than 100 displaced Pentagon workers, all within a week. An operational and procuring agency responsible for federal buildings, they simultaneously ensured the delivery of vehicles, tools and weapons to New York, where the Secret Service Agency had lost their offices in the World Trade Center Complex. Rutherford said, "Everyone from senior career people to those in the lower ranks really stepped up. Even people working in the warehouses stated afterward how they felt appreciated and needed."
Rutherford's own public service career, which started thanks to the recommendation of a fellow Trojan, Daniel R. Levinson, 1971, (later inspector general of the U.S. Department for Human and Health Services) now spans almost two decades. Interspersed with stints in the private sector, he served as secretary of the Maryland Department of General Services, and the Senate-confirmed assistant secretary of the United States Department of Agriculture, before being elected lieutenant governor of Maryland.
Rutherford entered USC Gould eight years after graduating from Howard University with a professional background in finance and technology sales.
"I wasn't your typical student," he said.
In his pursuit of a JD, he felt motivated less by a desire to practice law than to hone skills useful in any managerial career, including analytical thinking and the ability to uncover underlying problems.
He reflected on some of his proudest accomplishments as a public servant.
"At GSA, I felt I made a difference by increasing opportunities for small and minority businesses in federal contracting," he said.
At USDA, he chaired a newly created Sustainable Operations Council. The goal was to ensure that the department conducts business in an environmentally conscious way.
"It's a huge agency," he said, "and we were able to be in the green on our environmental score cards in terms of what we were doing to be a sustainable facility. I was proud of that."
His focus as Lieutenant Governor has been on addressing the state's heroin and opioid crisis and, more recently, on a new commission to study mental and behavioral health in Maryland.
"Nationally and as states, we have not done a good job in providing a continuum of care for individuals with severe mental health issues," he said. "The challenge is, how do you make sure that you're getting services to those who are suffering."
He added that crisis interventions alone, usually by law enforcement, are insufficient or even counterproductive because they can make the person feel threatened.
Rutherford and Gov. Larry Hogan were elected in 2014 and reelected four years later. They ran both times on a shared ticket, and from day one they also shared most of their office personnel.
"The governor is the senior partner in this whole operation," Rutherford said. "But we came in with the idea that we would govern together, and I felt it would be good to have a consolidated staff. Aside from being cost-effective, this approach ensures my involvement in every major decision and united leadership for the people of Maryland."
RECENT NEWS