Legal care for the caregiver

USC Gould School of Law
Thursday, January 28, 2021
Gould alumni play role in Keck Medicine of USC program helping health care workers during pandemic
By Julie Riggott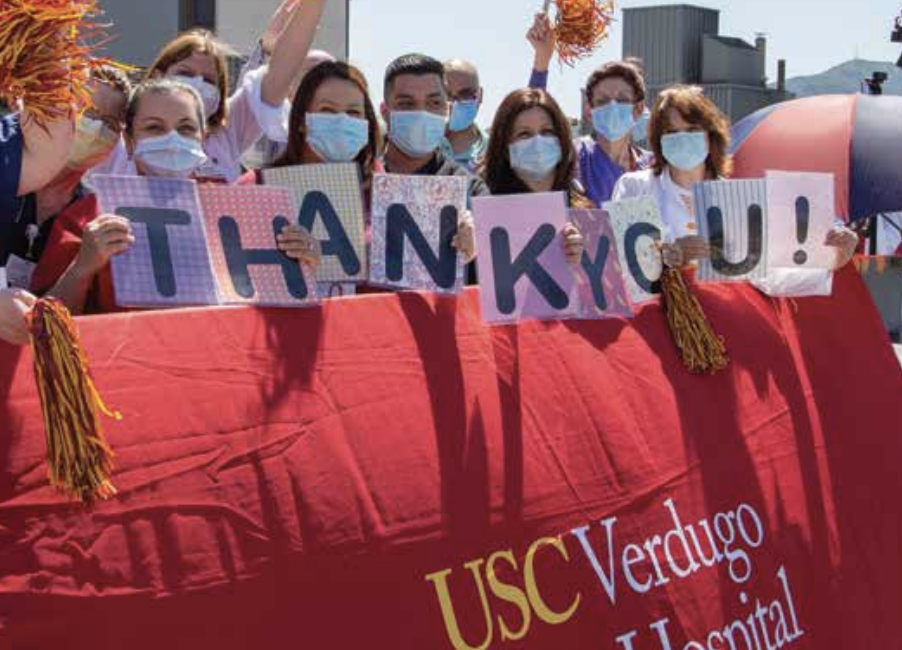 Frontline workers at USC Verdugo Hills Hospital at an event to thank firefighters and law enforcement for their work during the pandemic. (Photo credit: Richard Carrasco III/Keck Medicine of USC)
As a hospital social worker, Joey Kwon has educated countless patients about life care planning, but put completing her own living will on the back burner. But a new university-bred program to help frontline workers stay safe and healthy — with an important assist from USC Gould School of Law — empowered her to prioritize the task.
"COVID has really brought to mind the uncertainty of life," says Kwon, who works at USC Verdugo Hills Hospital. "It made me think about the true priorities in life — family, safety and health — and what safeguards I can put in place to ensure my family and children's wellbeing. When I saw on our HR page that Care for the Caregiver offers legal assistance, I knew it was time to take advantage of this opportunity. I now feel peace of mind having completed it."
Instituted in April to support high-risk health care staff, Keck Medicine of USC's Care for the Caregiver program offers help with everything from housing to mental health services, and includes a legal assistance program started in partnership with Gould.
Volunteers make the connection to offer legal assistance

The legal assistance program was developed after Dr. John Brodhead, chief of medicine at the Keck Hospital of USC, contacted USC Gould Dean Andrew Guzman about finding alumni willing to provide pro bono assistance to frontline caregivers. Robin Maness, associate dean of development, alumni relations and continuing legal education, and Professor Ariela Gross quickly launched the program, which encompasses will and estate planning, advance health care directives, power of attorney, tax and family law.
More than a dozen Gould alumni have volunteered time and resources through Care for the Caregiver, as well as the City of Los Angeles' LA Represents, a coalition of law firms, bar associations and attorneys providing COVID-19 related legal services by increasing their existing pro bono commitments to legal aid organizations. Gould alumni in diverse industries, on their own and through their companies, also donated equipment, including PPE and overflow tents, to Keck hospitals.
"We've helped over 90 people at Keck through the legal assistance program," says Maness. "We are still receiving requests and will continue to do so."
As part of the legal assistance component, Maness reached out to the USC Gould Continuing Legal Education Trust and Estate Conference Planning Committee, which assisted with planning documents for trusts and wills. Kenneth Wolf, conference chair and founding member and of counsel at Freeman, Freeman & Smiley LLP, helped pull the assistance together. Through several Gould connections, the legal assistance program also reached out to local trust and estate attorneys and local family law firms Bet Tzedek and LevittQuinn Family Law Center. Ken Friedman ( JD 1998) connected Gould with Diego Cartagena, president and CEO of Bet Tzedek, Maness says. Student Bar Association President Marian Slocum (Class of 2021) volunteered to manage the requests under Professor Gross' supervision.
LevittQuinn attorneys provided legal advice to Keck caregivers on family law issues and helped them navigate COVID-impacted courts and understand their legal rights and responsibilities. Executive Director Ana Storey, a USC Sol Price School of Public Policy alum, credited Steven Mindel (JD 1985), managing partner of Feinberg, Mindel, Brandt and Klein LLP and emeritus member of LevittQuinn's leadership council, with connecting LevittQuinn with the legal assistance program, which Storey says seemed like a perfect fit.
"We were moved to help these caregivers who are putting themselves at risk of exposure in order to help others who are vulnerable. The caregivers deserve to know that there are others in the community who value their service and are there for them," she says.
Providing PPE, and more

Gould alumni in fields other than law also provided support to their fellow Trojans. Thanks in part to efforts by John Slusher ( JD 1994), Nike Inc. got in the game, donating face shields, respirator lenses and footwear to Keck caregivers.
"We were incredibly proud but also humbled by the opportunity to support frontline health care workers, including those at Keck, in meeting the urgent need for personal protective equipment," says Slusher, executive vice president of sports marketing at Nike Inc.
Slusher noted the large-scale collaborative effort required drawing on the expertise of teams across Nike Inc., to "transform our footwear and apparel materials in our own manufacturing facilities into fullface shields and air-purifying respirator lenses — in just a matter of weeks."
RECENT NEWS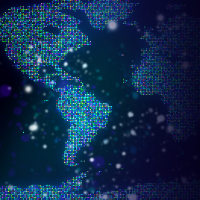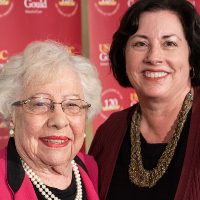 School's in for this alum
June 10, 2021
Lisa Kloppenberg (JD 1987) follows influence of Judge Dorothy Nelson to career in academia