In Memoriam: Susan Bayh, JD '84

USC Gould School of Law
Wednesday, February 10, 2021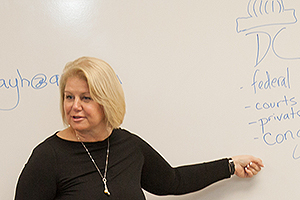 USC Gould School of Law alumna and lecturer Susan Bayh (JD 1984) passed away at age 61, following a courageous battle with brain cancer. Bayh was an accomplished attorney and leader, whose impact reached across the professional, public service and educational fields. She was married to former U.S. Senator and former Indiana Governor Evan Bayh.
"It is with great sadness that we mourn the loss of our dear friend, public servant, and respected law school alum, Susan Bayh," said USC Gould Dean Andrew Guzman. "She will be remembered fondly by so many around the country, including many of us in the Gould community. I will always be thankful for Susan's commitment to helping our students — both inside the classroom, and in advancing their professional goals."
Distinguished Career
Bayh's professional background included more than 20 years in the pharmaceutical and biotech industries. She was an attorney at Eli Lilly and Company's pharmaceutical division, and before that, was a litigation attorney at Barnes & Thornburg in Indianapolis as well as at Gibson, Dunn & Crutcher in Los Angeles.
Among her notable highlights as a public servant, she served on the International Joint Commission of the Waters Treaty Act between the U.S. and Canada.
Bayh also served on the boards of numerous organizations. She earned a BA from the University of California at Berkeley, before pursuing law school at USC Gould.
Trojan Family Advocate
An active and dedicated member of the USC Gould community, Bayh brought her expertise into the classroom as a lecturer in law. She also offered her insight and leadership experiences as a member of Gould's Board of Councilors, having served since 2016.
For many years, Bayh played an instrumental role in organizing the law school's "SC in DC" program, which provided students with opportunities to explore semester-long and summer externships in Washington, D.C.
In addition to teaching at USC Gould, Bayh was also previously a distinguished visiting business professor at Butler University in Indiana.
Read More
RECENT NEWS