Academic Senate honors Jody Armour with Walter Wolf Award

USC Gould School of Law
Tuesday, June 8, 2021
Award recognizes USC faculty member for defense and advocacy of academic freedom
By Yulia Nakagome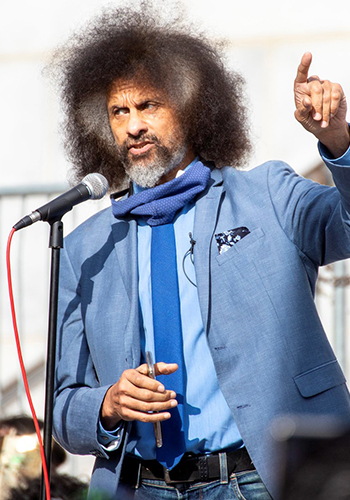 The USC Academic Senate recently presented Professor
Jody Armour
with the 2021 Walter Wolf Award for Defense of Academic Freedom and Faculty Rights. Armour became only the sixth recipient to ever receive the honor.
The award is given to a USC faculty member for their defense and advocacy of academic freedom or other manifestations of social conscience, through distinguished faculty service, teaching, scholarship or activity as a public intellectual.
Armour, who explores the intersection of racial justice, criminal justice and the rule of law, says the award comes at a time when defending freedoms is more crucial than ever.
"It's an especially meaningful award at this moment in time when we're at a historical inflection point in how we think about racial justice, social justice, systemic racism," Armour said.
He sees bringing together the academy and the "boulevard" — the theories of the ivory tower and the practical problems of the real world — as his highest professional ambition.
"It means the world to me that my colleagues recognized me in this way because one's colleagues have an inside baseball understanding of the inner workings of academia," he said. "I find it especially gratifying that they recognize me for trying to make the rubber meet the road."
The award is named for Walter Wolf, Distinguished Professor of Pharmaceutical Sciences, the longest-serving member of the USC faculty.
In presenting the award at the university's virtual ceremony, Dean Andrew Guzman noted that Armour "teaches not only the law, but he also teaches justice."
Armour is the second Gould professor to win the award; Professor Ronald Garet was honored in 2018.
RECENT NEWS