Dear Gould Community,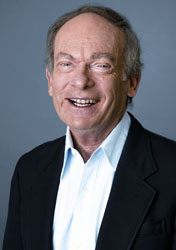 It is with a heavy heart that I share sad news about one of our beloved emeriti faculty. Professor Christopher D. Stone – the J. Thomas McCarthy Trustee Chair in Law, Emeritus – passed away recently, at the age of 83.
For many, Chris may be best known, and widely admired, as an innovator and an authority in environmental law. For those of us at USC Gould, he will be remembered for that and so much more, as he leaves an incredible legacy of interdisciplinary scholarship and education, along with an enduring imprint as an inspirational peer mentor.
Chris earned his JD from Yale Law and graduated magna cum laude from Harvard. He went on to become a fellow in law and economics at the University of Chicago and practiced law at Cravath, Swaine and Moore in New York, before joining USC Gould in 1965. His appetite for learning, as well as his sense of justice, could be traced back to his family roots; his father was influential and acclaimed journalist, I. F. Stone (in addition, his sister was a poet, and his brother, a scientist).
Gould colleagues have spoken highly of Chris as being a Renaissance scholar, who was relentless in his intellectual curiosity. He exemplified the meaning of interdisciplinary study, and this reality was reflected in his research. He wrote about topics that spanned legal philosophy, corporate crime, alternative energy policy, climate change, biodiversity, ocean policy, and trade law.
Of course, his most notable area of focus was environmental law. Chris is credited as a founder of modern environmental advocacy — having pressed for the recognition of legal rights for the natural environment. His ideas were far-reaching; Chris molded the thinking of other scholars, his ideas were embraced by environmental activists, and his research was cited by Justices of the U.S. Supreme Court. To this day, his book, Should Trees Have Standing?: And Other Essays on Law, Morals & the Environment, remains one of the field's most prominent works.
Chris was undoubtedly a gifted scholar, yet he was equally generous in sharing those gifts to elevate the work of his peers. He was an important mentor to many Gould faculty, often taking the time to delve deeply into his colleagues' work with probing questions and then drawing thoughtful connections to current events issues or scholarly work in other disciplines. And, he did all of this with a genuine charm and warmth – as well as a unique sense of humor – that endeared him to countless colleagues.
Further, as an educator, Chris was instrumental in shaping the law school into what it is today. He was among the cohort of faculty in the 1960s who pioneered the innovative course, Law, Language and Ethics, which cemented USC Gould among the first law schools to incorporate an interdisciplinary approach to the study of law.
Inside the classroom, Chris was committed to the growth and success of his students. He had high expectations of each of them, and always made himself available and accessible to help anyone if they needed his guidance.
Chris has been referred to as the soul of the law school — an exemplary scholar, who dedicated nearly five decades of service to Gould. In recognition of his extraordinary contributions, USC honored Chris in 2014 with the Faculty Lifetime Achievement Award, given to only a very select number of retired faculty at the annual Academic Honors Convocation.
A respected professor and beloved friend, Chris will indeed be dearly missed. His impact will continue to be felt throughout the school, and Chris will be remembered fondly by all of those who had the privilege of getting to know him and working alongside him.
We offer our condolences and deepest sympathies to the entire Stone family in the wake of their loss.
Sincerely,
Dean Andrew Guzman