Leading the way

USC Gould School of Law
Wednesday, June 23, 2021
Christianne Kerns (JD 1985) rises to numerous challenges in busy law career
By Diane Krieger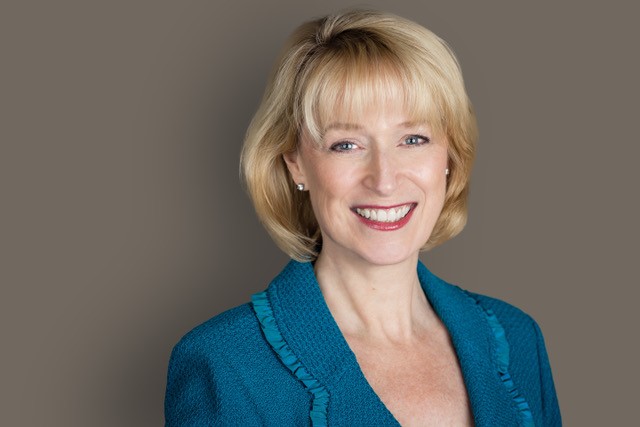 Christianne Kerns (JD 1985)
When Christianne Kerns (JD 1985) took on for the role as the first female managing partner at Hahn & Hahn LLP in early 2020, little did she imagine she'd be presiding over a year of chaos.
"If you'd told me then that we'd be working remotely for a year and a half, I would have written if off as paranoid, sky-is-falling fear mongering. I am very optimistic, and that kind of doom-and-gloom just wasn't part of my mindset."
As the de-facto chief executive of the 122-year-old Pasadena law firm, she found herself working up to 18 hours a day, seven days a week for months, putting out the pandemic-stoked fires facing her clients and her firm, down several attorneys due to recent retirements.
Hahn & Hahn is a certified woman and minority owned law firm, with a majority of women partners. Specializing in commercial finance, real estate, corporate and general business matters, Kerns advises corporate boards and C-Suite executives. For three years running, Kerns has been listed by the Los Angeles Business Journal among "LA's Most Influential Female Attorneys."
COVID put her proven leaderships skills to the test.
"Once I fully grasped that the pandemic was coming to Southern California, I had about 10 days to plan for the safer-at-home orders," she recalls.
At the time, she'd never used Zoom. Most of the firm's desktop computers lacked built-in cameras. Some employers had no internet at home. Kerns brought her firm's 50 attorneys and staffers up-to-speed remotely with help from her IT manager and administrative director, securing computers, cameras, printers, scanners, remote system connectivity, lights and other office equipment, including desk chairs for some employees.
"It was crazy, but we did it," she says.
Law school opens doors
Kerns has never backed away from a challenge. Growing up in a working-class family in Fullerton, California, she put herself through California State University, Fullerton selling children's shoes at Nordstrom, majoring in sociology and minoring in business. Then she worked two years in marketing for a large telecommunications company. Generous scholarships and financial aid from USC Gould made it possible for Kerns to attend law school, where she became editor-in-chief of the proceedings of the USC Tax Institute as well as the Computer Law Journal (no longer in publication).
"USC Law School raised me to a level of professionalism that wasn't previously available to me," she says. "It opened doors that weren't even apparent to me because I didn't have a professional support network. My parents didn't graduate from college and weren't equipped to provide support or guidance."
Kerns gives back by mentoring USC Gould students and sitting on the First Generation Professionals Committee of the Board of Councilors.
Her own career began at Sheppard Mullin Richter & Hampton LLP, where she rose to partner in 1993. Kerns and her husband, Charlie, an industrial/organizational psychologist on the faculty of Pepperdine University's business school, settled down near Pasadena and started a family. She later transitioned to an of counsel role at Armstrong Hirsch Jackoway Tyerman & Wertheimer to allow more time for raising her children, Jason, 31, and Lauren, 27.
Support for community organizations a priority
Meanwhile Kerns' leadership skills kept growing. In 2001, she began a four-year term as a commissioner of the Los Angeles Homeless Services Authority. In 2002, she joined the board of Villa Esperanza Services, a Pasadena-based nonprofit working with developmentally disabled youth and adults across the Southland.
In 2003, she got back to a partnership track position at Hahn & Hahn and rose to the executive committee. Kerns took on new leadership roles outside the firm, too, joining the board of Five Acres. Originally founded as an orphanage, today the 133-year-old charity deploys its $40 million annual budget to care for some 10,000 children and families in crisis across six counties, including a full-service residential program that houses about 70 foster youths on its bucolic Altadena campus.
"These children are truly at risk. Five Acres makes a life-changing difference for them," says Kerns, who chaired its board of directors through 2020. "I envision the children walking on a balance beam. They can fall to one side or the other—either into a difficult, troubled life or into a life of being productive citizens equipped to meet the world."
Since 2019, Kerns has also served on the board of the Hastings Foundation, which supports pulmonary research at the Keck School of Medicine of USC.
Why does she take on so much?
"I believe lawyers have a unique ability to help community organizations. I'm not a therapist, and with my busy schedule I can't help a foster child through his or her issues. But I can sit on a board and provide critical thinking and direction. I can help with board governance issues, strategic planning, financial oversight and risk management. I can help an organization run more efficiently and hire the best quality professionals. That's where I think I can add value. People like me, who are blessed in so many ways, really should be doing what they can to advance the causes they believe in for the collective good."
RECENT NEWS