Her job is a gas

USC Gould School of Law
Wednesday, June 30, 2021
Linda Louie (JD 1985) hits the fast track as general counsel for National Hot Rod Association
By Matthew Kredell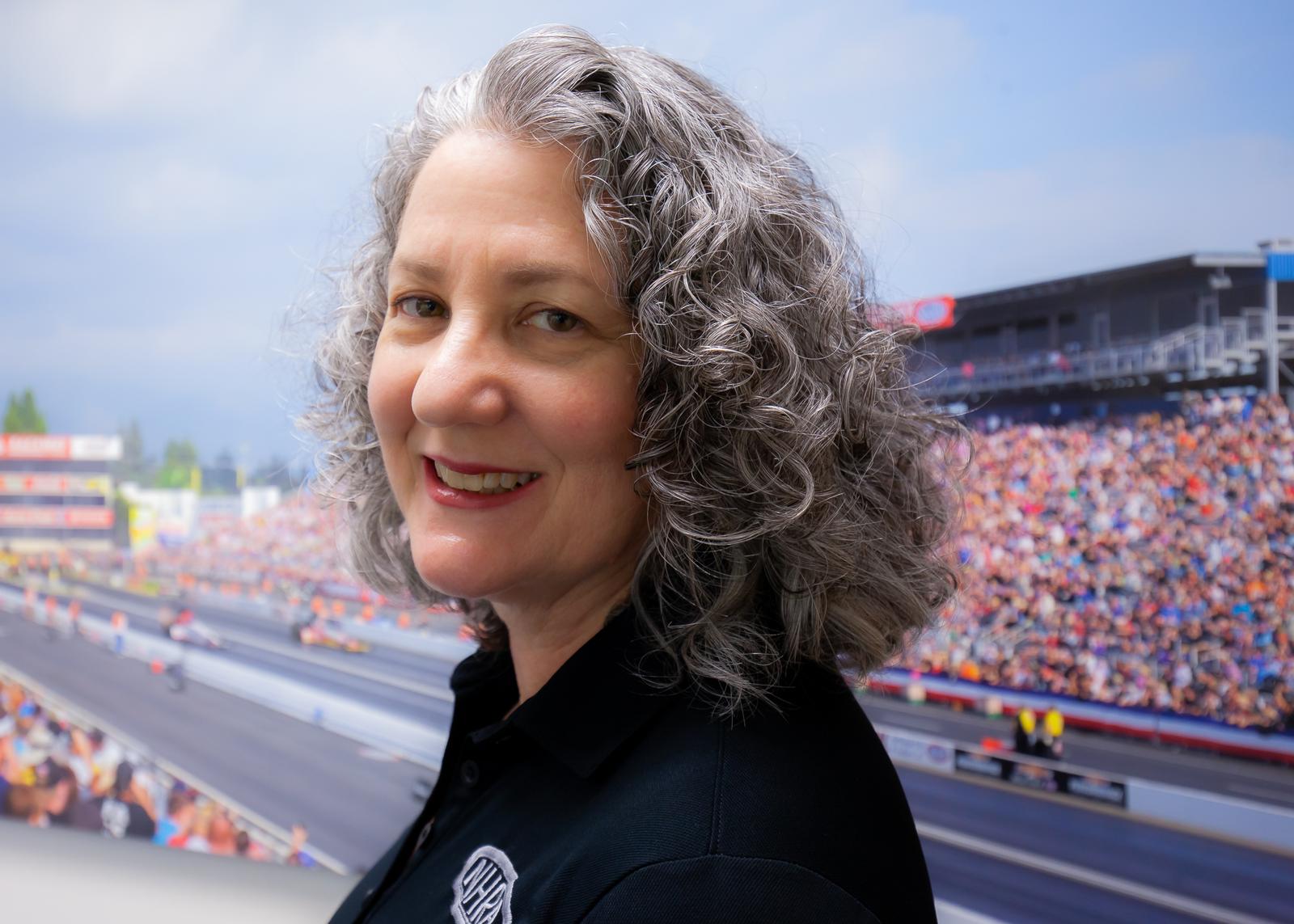 Linda Louie (JD 1985)
At the National Hot Rod Association, Linda Louie (JD 1985) found that lawyering is never a drag – even though the races are.
Following an initial career as a business litigator, Louie made a home for herself as general counsel of the NHRA. She has worked at the premier sanctioning body for drag racing based in Glendora, Calif., for 22 years.
She moved on from litigation when she found motherhood incompatible with big law firm life. After the second of her three children was born, she switched to working for companies with in-house law departments. She found the NHRA job in a newspaper ad after her third child was born.
"I find being in-house a more positive and constructive pursuit," Louie says. "When you're a litigator, you're seeing things that already turned into problems. When you're in-house, you can try to make sure they don't turn into problems."
"No two days are alike"
Working for the NHRA, Louie faces all the regular issues any company would – for example, a wide variety of contracts, corporate governance, employment law, insurance and risk management, intellectual property, real estate and litigation matters. But then she handles issues specific to racing, such as matters related to the rules that govern the sport, TV, live-streaming, digital and print content, licensing, on-track incidents, and issues related to live events (including during COVID-19).
"There's a lot of variety and no two days are alike," Louie says. "That makes for a fun job with a lot of professional challenges and opportunity for growth."
And like many who have seen, or heard, hot rods launch forward at extreme speeds, she became a racing fan.
"You cannot help but get into it if you attend one of our races," Louie says. "It's like nothing else on the planet. When you're there and there's two cars with 11,000 horsepower each going well over 300 miles an hour in a few seconds, it's pretty impressive."
Baking for social justice: it's a family affair
Her USC Gould class still keeps in touch after all these years. Following an online 35-year reunion during the COVID-19 pandemic, the class started a book group in which Louie participates, facilitated by Gould professors Rebecca Brown and Clare Pastore, as well as Adam Murray, CEO of Inner City Law Center.
With two of her adult children living at her home in South Pasadena during the pandemic, the Louie family sought to make a difference through baking. Her daughter Ari, a student at University of California, Berkeley, came up with the idea to raise money to support racial and social justice organizations, and Louies Bake for Justice was born.
As Ari's idea took off, the rest of their pandemic pod pitched in – Louie, her husband Chip, son Aidan and his girlfriend Kiera Salvo. Together they've made thousands of cookies and biscuits, hundreds of tubs of beans, hummus and falafel, and more. The effort has generated more than $30,000 for a variety of community-oriented racial justice organizations.
"We never dreamed the bake sale would bring the community together the way it has," Louie says. "When it started, many of the customers were old friends. It's a team effort that takes the full attention of a lot of people here every weekend, but it's been a really positive experience and I think we're doing a lot of good."
RECENT NEWS