Real estate law, business experts explore the new normal

USC Gould School of Law
Monday, May 2, 2022
Real Estate Law and Business Forum addresses complexities of living, working and investing in a fluid world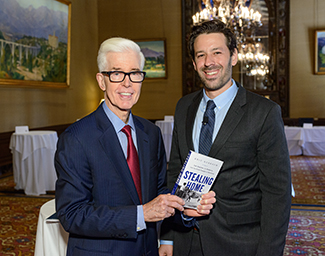 Former California Governor Gray Davis (left) and author Eric Nusbaum (right) (Photo / Chris Flynn)
Gov. Gray Davis (Ret.) joined investors, real estate advisors, lawyers and other experts who shared key insights around the housing and business economy at the USC Gould School of Law Real Estate Law and Business Forum on April 7.
The Continuing Legal Education event regrouped for the first time since the start of the pandemic and drew hundreds of industry professionals to downtown Los Angeles. Eric Nusbaum, author of Stealing Home: Los Angeles, the Dodgers, and the Lives Caught in Between, delivered the keynote address.
The one-day forum, titled "The New Normal: Living, Working and Investing in Real Estate in A Fluid World," addressed the challenges of the current real estate economy — inflation, the continuing pandemic, and global unrest — and offered solutions for individuals and companies forced to pivot and adapt.
Nusbaum's speech described the redlining that occurred in Los Angeles before the landmark case Shelly v. Kraemer, which struck down racially restrictive housing covenants in 1948, and the subsequent push from local realtor associations to uphold the racial segregation of communities under the guise of protecting property values.
The concurrent complexities of a heated political debate in Los Angeles over a planned Elysian Park public housing project and a growing sentiment in the city to have its own baseball team, Nusbaum said, converged to pave the way for Dodger Stadium's construction, which displaced nearly a thousand families, a majority of which were Mexican American.
An L.A. native himself, Nusbaum said his motivation to write the book stemmed from a memorable talk he heard in high school presented by Frank Wilkinson, leader of the Elysian Park public housing project. "The first thing he asked was to raise our hands if we were a Dodger[s] fan. And then he said, 'Dodger Stadium should not exist,'" Nusbaum said.
Wilkinson recounted his quest to build what he saw as the greatest public housing project ever made at the site of what is now Dodger Stadium — and how the plan came undone during the Red Scare. "That story never really got out of my head," said Nusbaum.
In addition to Nusbaum's discussion of redlining and community displacement, forum panelists addressed the need for better representation in the real estate industry. One session focused on the importance of hiring and retaining diverse talent in commercial real estate. "It can be a challenge to be the 'only' in a room," said panelist Treana L. Allen, investor-in-residence at TPG, who is part of the reported 0.5% of private equity law that comprises Black women.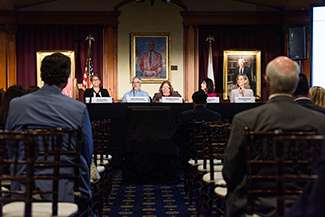 Moderated by MaryBeth Heydt (center), Treana L. Allen (far left), Elizabeth Atlee (far right), Adam B. Weissburg (left of center) and Tori Robinson (right of center) join a panel to discuss the hiring and retention of diverse talent. (Photo / Chris Flynn)
Three breakout tracks focused on finance, evolving uses, and changing world. Each panel delved into topics including: climate change, how to serve underserved communities, and adapting to the changing economy in the face of technology, the pandemic and other external factors.
In their respective morning sessions, Spencer Levy, CBRE chief client officer and senior economic advisor, and former California Gov. Gray Davis ruminated on the real estate economy, and laid out predictions for what is to come.
Levy outlined six major hypotheses throughout his presentation, including a shift towards Better Business Districts where people can "live, work, and play" all within a small radius. Though Levy acknowledged the great challenges of our time, he said he remains optimistic that the future will be bright for investors who aim for the sweet spot between returns and popularity.
Davis described three looming challenges for the State of California: the housing crisis, supply chain issues, and wildfires. Though the industry faces many global and local obstacles, he said he feels optimistic about what is to come: "The future is invented here, in California."
---
USC Gould School of Law offers unparalleled continuing legal education opportunities for professionals to deepen their skills network with leading industry experts. A fixture of the legal community since 1948, USC Gould sets the standard in continuing legal education programming, hosting six annual conferences which feature top practitioners and trendsetters in entertainment, estate planning, business, taxation, real estate and intellectual property. Learn more at gould.usc.edu/cle and follow us on social media @USCGouldCLE.
REF 2022 Photo Slideshow:
Read More
RECENT NEWS