Alumni Spotlight: Q&A with Tom Larkins (JD 1986)

USC Gould School of Law
Monday, February 13, 2023
Larkins serves as chair of the USC Gould School of Law Board of Councilors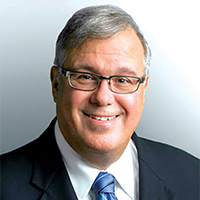 What are your plans for the Gould Board of Councilors?
I really believe that we're at a great inflection point to take Gould's reputation as one of the premier law schools in the country to the next level. As a board, we can best support the dean and his team in this effort by focusing on two main areas: First, the execution of aligned strategic priorities, including the new building campaign and the initiative to support Gould's need-based and general scholarships. These projects will make Gould an even more attractive destination for the best students and faculty.
Second is continuing to increase engagement in giving among the alumni, including by expanding the base of giving: the percentage of alumni who make donations. When I started my term, I told the board about two questions I ponder now that I'm retired: What got me to where I am, and what do I want my legacy to be? Gould is a key part of the answer to both questions and I hope to increase the number of people who also feel that way.
In February, we plan to hold the first in-person mentor lunch (alumni and first year students) since the pandemic. We will get the board back together in person regularly. We're also talking with the dean and his team about how to most effectively engage with the broader base of alumni, whether it's reunions or other impactful special events.
What activities have you engaged in as chair?
I had the honor and privilege of speaking at orientation for first year students. I am still both humbled and energized by that experience. The level of awareness, maturity, energy and accomplishment in this class is through the roof. I welcomed them into the Trojan/ Gould Family and encouraged them to make full use of it. Alumni want to see students succeed and the school bolster its reputation. I also went to the
C. David Molina First Generation Professionals Program
reception and saw the significant positive impact on those who participate.
How did your Gould education help you in your career — and how will it help you as chair?
As I wrote my remarks for orientation, I realized key parts of the mindset I developed over the course of my career had roots in my time at Gould. For instance, in my office I had a framed saying, "Life begins at the end of your comfort zone." One of my more meaningful activities at Gould was joining the
Post-Conviction Justice Project
representing clients at Terminal Island. Working in an unfamiliar environment and being trusted to create and execute a plan enables you to assess the situation, build a hypothesis on how to proceed and learn and adjust as you go. And, of course, Gould is a place where you build deep relationships, where people root for each other to succeed. Thirty-six years after graduation, I still have a core group of friends from law school who have stuck with me through my many moves around the country.
Read More
RECENT NEWS