Media and Entertainment Law Certificate
Earning a certificate in Media and Entertainment Law in addition to your LLM degree gives you the insights and practical skills to succeed in legal practice relating to film, television, communications, digital media and the internet, copyright and trademark, music, sports, and much more. It also offers you a credential that demonstrates your specialized training in this exciting area of the law.
You may concurrently earn multiple certificates offered by USC Gould. Some courses count toward more than one certificate.
Certificate Requirements
To earn the certificate, you must take at least 12 units of mandatory and elective courses as outlined below. The courses go beyond the doctrinal and policy-oriented offerings in a traditional curriculum to provide you with experiential training that prepares you for practice.
Our Media and Entertainment Law courses emphasize the importance of acquiring both strong legal skills and familiarity with business concepts. The curriculum features a combination of lecture-style and skill-based courses taught principally in a workshop format. You also have the option of enrolling in electives through the renowned USC School of Cinematic Arts.
Mandatory Courses
Business Organizations
Entertainment Law
Intellectual Property or Copyright, Trademark and Related Rights
Electives
Antitrust Law I
Contract Drafting, Analysis and Negotiation (LLM)
Contract Drafting and Strategy
Copyright Law in Practice
Counseling the Startup
Entertainment Dealmaking
Entertainment Law in Practice
Entertainment Law Practicum
First Amendment
Intellectual Property Litigation
Internet Law
Patent Drafting and Prosecution
Patent Law
Secured Transactions
Sports Law in Practice
Taxation
Technology Transactions
Telecommunications Law
Trademark Law in Practice
Venture Capital Law and Finance
Video Game Law in Practice
Topics in Entertainment Law

Talent Negotiation
Intellectual Property Licensing (LLM)
Legal and Business Issues in the Digital World (LLM)
Current Issues Challenging the Industry (LLM)
Electives: USC School of Cinematic Arts
The Business of Representation
Digital Technologies and the Entertainment Industry
Entertainment Marketing in Today's Environment
Feature Film Financing and the Studio System
Seminar in Motion Picture Business
The Television Industry: Networks, Cable and the Internet
The World of the Producer
You may choose to take one of the above courses at USC Cinematic Arts. To request enrollment, email gipreg@law.usc.edu with the course name and number.
Not all courses are offered every year. Courses are open to all students, not just those pursuing a certificate. You must earn a cumulative grade point average of 2.6 in your certificate coursework to receive the certificate.
Per American Bar Association requirements, courses taken outside USC Gould do not count toward the LLM degree. In addition, the New York Bar does not recognize USC School of Cinematic Arts courses.
RECENT NEWS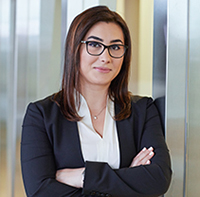 Sunny Skies Ahead
April 23, 2019
Meet Karine Akopchikyan JD 2015, a business and intellectual property litigator, chairs the Los Angeles committee of the...