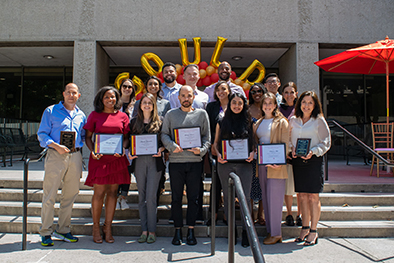 Each year, USC Gould academic programs and the Student Bar Association bestow distinguished awards to students and faculty for their exceptional abilities both in and out of the classroom. Congratulations to this year's honorees.
William A. Rutter Distinguished Teaching Award
Rebecca Brown, The Rader Family Trustee Chair in Law
Class of 2022 JD Awards
C. David Molina First Generation Professionals Program Student of the Year
Dean Dorothy Nelson Commemorative Prize
Mason C. Brown Award
Miller-Johnson Equal Justice Prize
Edward & Eleanor Shattuck Awards
Harrison Park
Rebecca "Beckie" Alch
Tomi Johnson
Steven Perkins
Brooke Kopel
Christopher Pineda
DEI Fellowship Awards
Dimiana Saad
Leilani Stacy
Jonathan "Chief" Coleman
Christopher Pineda
Class of 2022 Graduate & International Programs Awards
Amanda Guimarães
Lorenzo Rovini
2021-2022 Student Bar Association Faculty and Staff of the Year Awards
Congratulations to the Student Bar Association Awards winners!
Staff Member of the Year
Dave Dinh, Assistant Director, Project Management
Rachel Kronick Rothbart, Director, Career Services
Linda Richardson, Associate Director, Career Services
Adjunct Professor of the Year
Natalie Kouyoumdjian, Lecturer in Law
Faculty Member of the Year
Michael Chasalow, Clinical Professor of Law and Director, Small Business Clinic