Award-winning public interest attorney Melinda Bird shares inspiring stories at 10th Neiman-Sieroty Lecture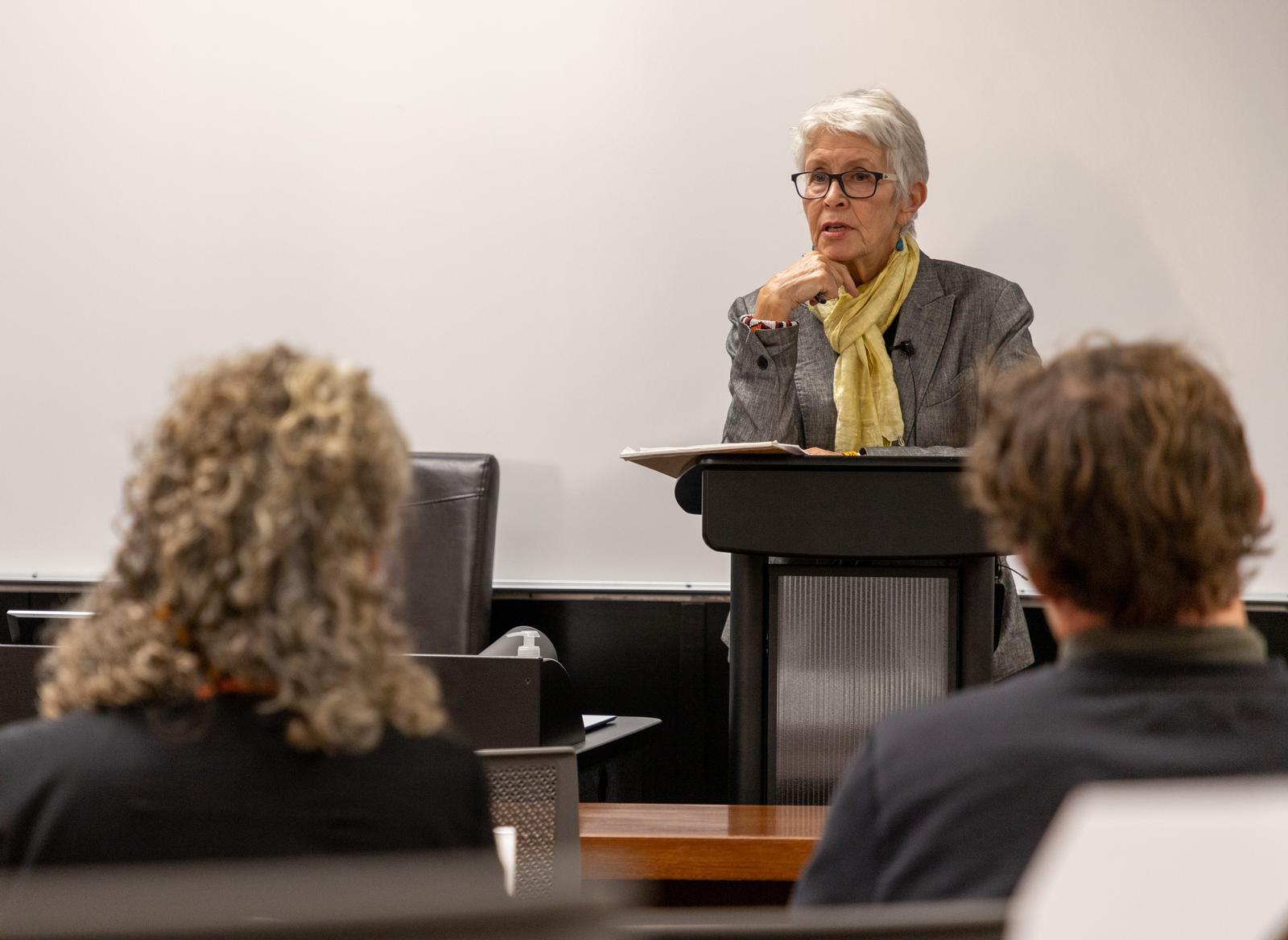 Melinda Bird spoke about her career in public interest work as the keynote speaker for this year's Neiman-Sieroty Lecture.
Renowned public interest attorney Melinda Bird, senior litigation counsel for Disability Rights California, discussed why public interest work has inspired her decades-long career when she appeared March 8 as the keynote speaker for the 10th anniversary of the Alan Sieroty and Allen Neiman Lecture in Civil Liberties at the USC Gould School of Law.
Bird – whose achievements include Emily Q v. Bonta, which resulted in development of a new mental health service for children and youth called Therapeutic Behavior Services, and Oster v. Lightbourne, which halted deep budget cuts to the state's home health care program, potentially affecting thousands of elderly and disabled Californians – said she found social justice work "endlessly fascinating. I can't think of a single thing I have done in 40 years of litigation that has not been legally interesting and a puzzle."
Bird's long career began with representing immigrant workers in Appalachia and includes working with the ACLU of Southern California and Western Center on Law and Poverty, where she was a colleague and mentor to Professor Clare Pastore of USC Gould. In 2012, Bird was honored by the State Bar of California with the Loren Miller Award, recognizing lifetime achievement in public interest law.
In his opening remarks, Dean Andrew Guzman praised Bird as "one of California's most effective and innovative lawyers in public interest litigation, whose work has benefited hundreds of thousands of low-income people, unhoused families, and people with disabilities."
Inspired to make the world a better place
Before an audience of students and faculty, joined by Neiman's daughter Amy and grandson Alex, Bird explained how public interest law fits in with her desire to "act affirmatively to make the world a better place."
"The two motivations for me are to bear witness to injustice, and to use our lawyer privilege to create respite and leverage," she said, illustrating the point with a story about Hansen v. Department of Social Services, a landmark case decided by the California Supreme Court in 1987. In that case, Bird and colleagues challenged the state's refusal to help homeless families unless the parents placed their children in foster care. Plaintiffs settled when the state agreed to create a program for temporary and permanent housing for homeless families, something that had not existed in California before.  Hundreds of thousands of families have been helped by the program in the ensuing years.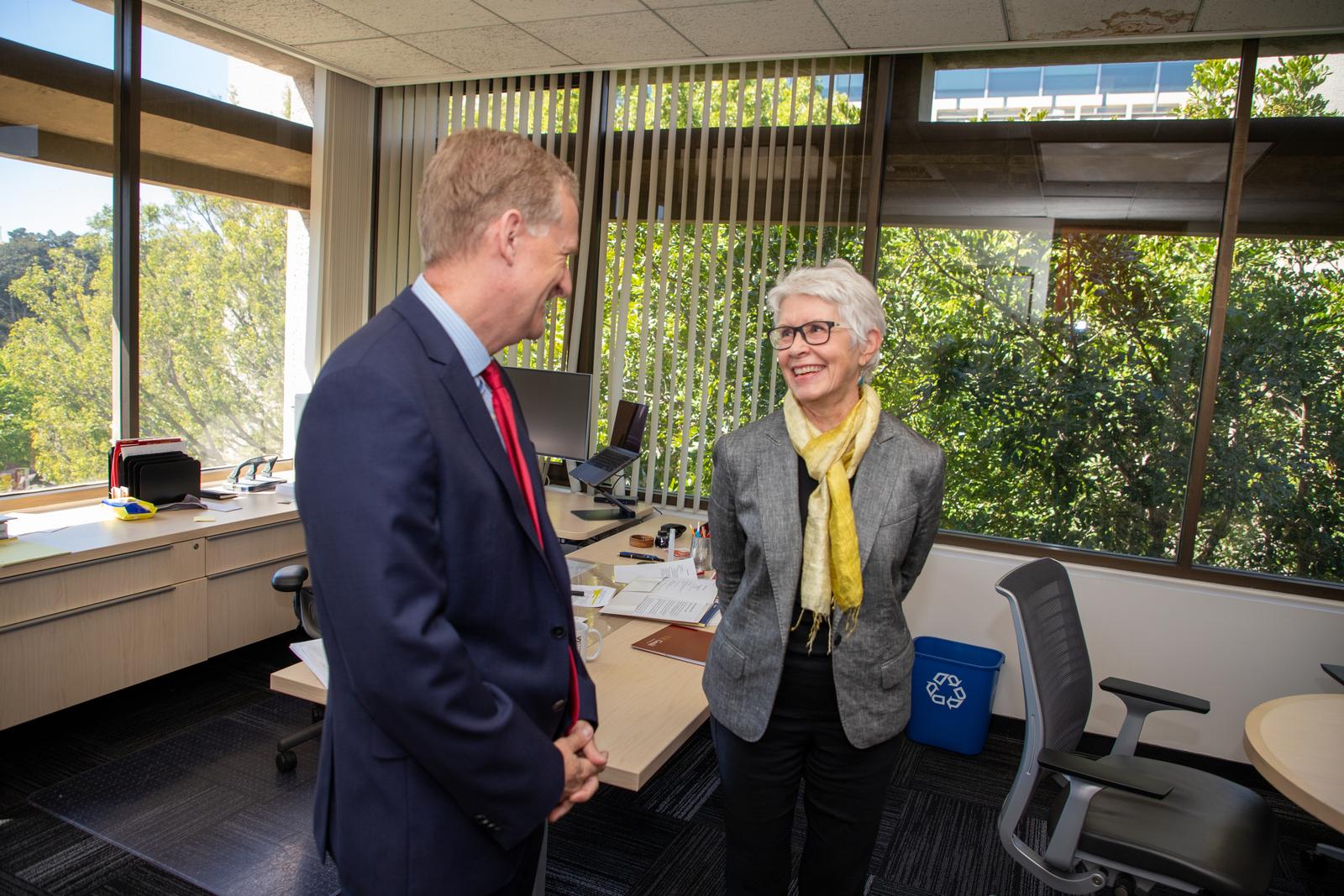 Dean Andrew Guzman and Bird speak before the lecture.
Bird characterized herself as "relentless," citing Emily Q. v. Bonta, involving a child who had been abused, neglected, molested and hospitalized throughout her childhood, and whose bad behavior stigmatized her among hospital staff. Bird filed a class action lawsuit hinging on actions to restrain and correct Emily and children like her, arguing that these actionsended up reinforcing their violent and aggressive behaviors. She later filed an individual case for Emily, too old to benefit from the TBS program created when Emily Q. v. Bonta was settled. Emily's case was eventually settled for more than $500,000, enabling Emily to afford an apartment and begin a new life that included volunteering at an animal shelter.
During a question-and-answer session, Bird was asked about the effect of vicarious trauma on attorneys who work in public interest law, and she agreed it is a challenge that also comes with rewards.
"I find it such a joy, and people are so generous with their time and what they share," she said. "When I talk to people in jail they are really vulnerable, [and it is] a very tender exchange."
The Nieman-Sieroty lecture series was endowed by Alan Sieroty (JD 1956) to enrich students' learning through in-depth discussions with civil rights experts. The series was named for Sieroty and Allen Neiman (JD 1956), Sieroty's law partner, both of whom have been deeply committed to civil rights. The lecture has featured civil rights influencers and change-makers including anti-apartheid activists, state Supreme Court justices, national civil rights leaders, and others.