Meet Jennifer Westhoff Zayas (JD 2013), vice president of business and legal affairs at Annapurna Pictures, where "no day is ever boring and no day is ever the same."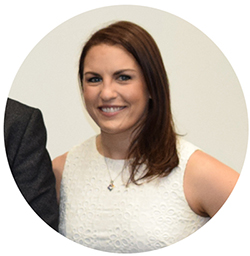 Jennifer Westhoff Zayas
How did your education and experiences at USC Gould prepare you for your career?
The classes and the certificate programs are well thought out to prepare you for practicing. Many of the entertainment-based classes are taught by practitioners who really emphasize giving you the skills and knowledge to be a contributor to your firm or company from day one. The most valuable thing that USC gave me though was access to people who could give advice and act as mentors and experiences that legitimately boosted my resume and skill set. Nothing is going to be handed to you, but Gould does a remarkable job of giving students any resource they could need to succeed whether academically or in their practice.
How would you describe your current role?
I am the vice president of business and legal affairs at Annapurna Pictures. I get to make the deals for underlying IP, producers, directors, writers and on-screen talent for all of our movies and TV shows (and sometimes even video games and Broadway productions). I also get to stay with the projects as they are produced (either handling on set and below-the-line issues myself or overseeing outside counsel) and eventually released where I get to review marketing and promotional materials related to the project, and hopefully an awards campaign. Being in-house counsel means that I also get to deal with corporate matters affecting the company at large. No day is ever boring and no day is ever the same.
Are there any lessons from your days as a law student that you rely on in your current work?
It's a small world. The legal profession is small and the entertainment industry is even smaller. No matter how contentious a negotiation gets, there's a good chance that at some point I'm going to have to work with that person again. So, I try to build a rapport wherever possible and not take anything personally. I also obsessively check attachments on emails before I send them after I made that mistake once with a final paper.
What is your favorite or most rewarding part of what you do?
I feel like I'm helping to create something. I get to work with projects from the first time a creative executive discovers a book/podcast/story/script that would make a good film or TV show through development, production and eventually release for the world to see. Plus, my mom earns major cool points with her friends when she points out my name in the end crawl.
Was there a professor or course you found particularly inspirational?
Professor Jack Lerner was always so supportive and such a champion for students. He made the concept of intellectual property rights tangible and showed a lot of us different career paths in the IP world we didn't know existed. He invited us to attend practitioner events like the LA Copyright Society and was always available to provide advice. Also, Tara Kole (a partner at the talent boutique Gang Tyre) taught a wonderful entertainment contracts class. It really opened my eyes to the importance of understanding the business and your client's goals when negotiating contracts. And now I get to negotiate deals with her!