Housing Law and Policy Clinic puts students into the community to deliver legal services to tenants at risk of losing their homes
By Adriana Maestas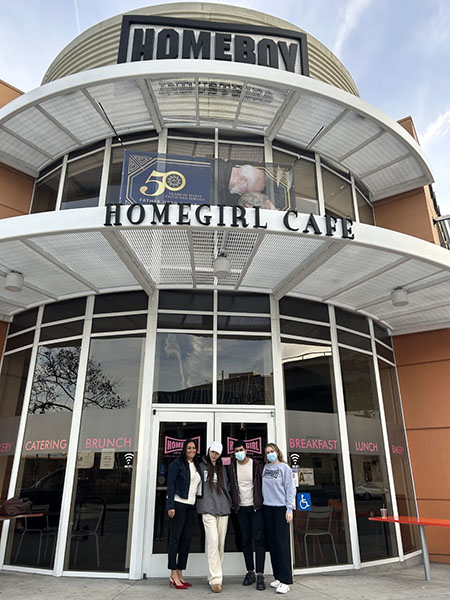 Housing Law and Policy Clinic Director Deepika Sharma with HLPC students at Homeboy Industries, where they conducted pop-up clinics for Homeboy trainees with housing issues.
With over 64% of households in the City of Los Angeles occupied by renters and the Southern California region impacted by a national housing crisis, the USC Housing Law and Policy Clinic (HLPC) is in an important position to give students experience with advocacy for tenants and working with community groups and others to address local housing issues.
Under the guidance of Deepika Sharma, clinical assistant professor and director of the HLPC, five 2Ls and 3Ls, two 1L volunteers and three undergraduate students who speak fluent Spanish staff the clinic. HLPC, launched in 2022, employs a community lawyering model that emphasizes building relationships with tenants and collaborating with community groups to empower and uplift indigent tenants.
HLPC students partner with Strategic Action for a Just Economy (SAJE), a South Los Angeles community-based organization dedicated to tenant rights advocacy and housing policy reform by serving clients at their weekly tenant action clinic, as well as supporting a monthly tenant harassment clinic. To date, HLPC has provided direct services to over 125 tenants, most of whom are monolingual Spanish speakers and families with children living in South LA.
2L Havyn Quigley says she appreciates the opportunity to be on the ground floor of a new clinic focused on one of the most critical public issues in Los Angeles.
"There's a big need for help in the housing space in Los Angeles because most people have been or are renters," she says. "Many tenants don't know their rights and often face harassment."
HLPC students help their clients identify resources and understand complex housing laws, assist with drafting letters to landlords and, in some cases, make legal referrals. As the March 31 expiration date for COVID-19 protections approached, students worked on making tenants aware of the 12-month deadline to pay back rent and available resources to help them with payment.
For 2L Lo Wong, the one-on-one experience of working with a client — a man with a disability living in a West Hollywood apartment for the past 20 years — demonstrated the impact she and the legal profession can have on people's lives.
"It's been tough for him to gain employment, and he was unable to enroll in the Section 8 voucher program, as these programs are quite competitive due to high demand," says Wong. "He was also having issues with his SSI application, so I helped link him to Disability Rights California and local resources available for rental assistance. But it was not until when I assured him that he doesn't have to worry about the back rent until next February because of the city's COVID emergency renter protections, that I heard him sigh with a real sense of relief."
To further clarify the legal protections available to tenants, HLPC students are developing charts and templates in English and Spanish.
Like many clinics, the HPLC gives students an opportunity to exercise their passions for social justice. For 3L Andrew Freire, that passion is language access. Freire, who speaks Spanish, plans to advocate for better language access within unjust systems after graduation.
"Before I went to law school, I volunteered as an interpreter for tenants," he says. "Through that experience, I became aware of how language accessibility is an important part of creating access to justice. It's been rewarding to translate housing law rights for tenants when they receive illegal eviction notices or coercive letters from their landlords. In response, we carefully draft bilingual letters or interpret government agency communications from English to Spanish so that tenants can learn about the specific housing issues they are confronting and effectively advocate for themselves."
Other HLPC projects include Know Your Rights workshops on renter's rights. The clinic has presented on two occasions to 130 students and community members, conducted pop-up clinics at Homeboy Industries, supporting Homeboy's trainees with housing issues, and is working on housing policy reform at the local level.
Sharma's goal for the clinic is to expose students to the multiple factors affecting tenants, from language barriers to market pressures, discrimination, harassment, and public health emergencies — and to help students understand their impact as attorneys in advocating for housing justice.
"I hope to instill the idea of working alongside your client, rather than serving as an expert who is above them. In HLPC we are dedicated to supporting our client's agency in a way that we hope allows them to use their own voice when asserting the law," she says.