USC Immigration Clinic alumni reflect on career-shaping experiences
By Carren Jao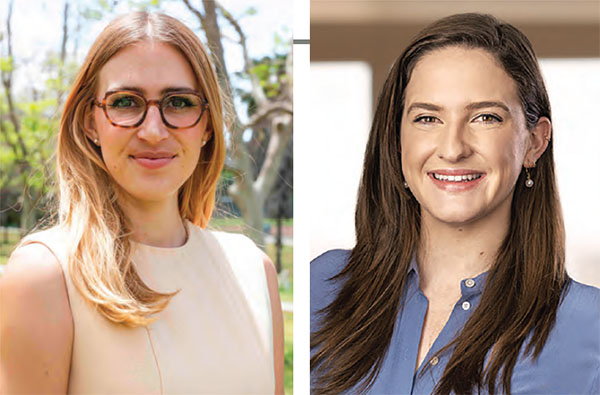 Carson Scott, left, and Emma Burgoon
For more than 20 years, the USC Gould School of Law's Immigration Clinic has represented individuals seeking asylum and other humanitarian protection in the United States. Professor Niels Frenzen and Professor Jean Reisz, the clinic's co-directors, supervise law students in their second and third years to provide affordable, high-quality legal representation to clients, including USC students and staff, and immigrant children through a partnership with Children's Hospital Los Angeles. The students' work is a matter of ensuring a client's safety.
"Immigration laws are complex and, regardless of who is president, immigration enforcement practices have been harsh in recent years," says Frenzen. "Having an Immigration Clinic student represent a client under the supervision of a clinical faculty member frequently means that the client will not be deported to a place of danger, will not be separated from family and will be granted legal status in the United States."
Two recent graduates are among the hundreds of law students whose ambitions led them to USC Gould and the Immigration Clinic. Carson Scott (JD 2020) and Emma Burgoon (JD 2022), whose mothers are from Mexico, have first-hand experience with assumptions about their parents' backgrounds that prompted them to pursue law careers.
Scott works at Immigrant Defenders Law Center in Los Angeles, co-founded by Executive Director Lindsay Toczylowski (JD 2008), also an Immigration Clinic alum. At ImmDef, Scott handles children's immigration cases and impact litigation cases that give her an opportunity to work toward policy changes in immigration.
As a 1L, Scott worked weekends in the clinic's naturalization programs, providing free legal support for those interested in becoming naturalized citizens. When she formally joined the clinic as a 2L, her work ranged from merit hearings, arguing on behalf of two women detained at Adelanto Detention Center, successfully representing a client during a bond hearing and winning the client's release, and drafting a Ninth Circuit Court of Appeals appellate brief application for a client's deferral of removal under the Convention Against Torture.
"Getting that experience and being trained to provide a certain level of quality of representation is really special," Scott says. "It is something I carry with me and expect to give each case, each filing I handle."
Burgoon, who also volunteered with the clinic in her first year, says she gained important experience with juggling multiple cases, and enhanced her writing skills. Her work included writing briefs and motions, helping to write a Ninth Circuit petition for a client and filing Freedom of Information Act requests for clients.
"I got a lot of early exposure to great legal skills that I'm carrying over now to my job," says Burgoon, now an associate at Morrison Foerster LLP working on privacy and data security cases with plans to use her Immigration Clinic skills on pro bono cases.