Leading voices address changes to the IP industry at the 2023 Intellectual Property Institute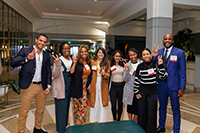 USC Gould School of Law students at the 2023 Intellectual Property Institute
Experts and academics discussed the future of the intellectual property law industry in light of emerging artificial intelligence technology, landmark cases and other developments at the 2023 Intellectual Property Institute, hosted by USC Gould School of Law in March.
The two-day continuing legal education conference, titled "The Pathways to Clear IP Solutions," was held March 20-21 at the Fairmont Miramar Hotel in Santa Monica as well as online for remote attendees.
Featured speakers included Jeremy Bash, founder and managing director of Beacon Global Strategies LLC, and dozens of academics, IP lawyers and other professionals.
In his keynote presentation, Bash emphasized the vital role of intellectual property in a strong democracy.
"Intellectual property — the ability to protect that which we create — represents, in my view, the foundation of America's strength," he said. "Without IP rights, there would be no creation. Without creation, there be no economic power of the United States. Without any economic power of the United States, there would be no diplomatic power, no military power."
The first day of the institute began with workshop sessions covering patent damages, reasonable royalties and monetary remedies.
The annual Julie H. Yi Diversity Forum kicked off the second day of the institute with experts in various sectors offering strategies to identify and address implicit and explicit biases against individuals and entities in the courtroom and other litigation settings.
Other morning sessions covered trends in IP litigation, led by federal judges, and how intellectual property law will adapt to artificial intelligence.
In a lively discussion about how to regulate intellectual property produced by or with the help of machines, Professor Ryan Abbott (University of Surrey School of Law; partner, Brown, Neri, Smith & Khan; neutral, JAMS) raised the question of authorship.
"The idea of drawing a line is challenging. [Technology] can do some pretty advanced things in terms of altering images in ways that would be hard for me to claim I really had much to do with," said Abbott. "How we made the work shouldn't matter the way we also think how we come up with an invention shouldn't matter in patent law."
Throughout the afternoon, attendees chose between concurrent breakout sessions delving into copyright, patent and trademark law, including discussions on recent legislation, developments in life sciences cases, standard essential patents licensing and the Trademark Modernization Act.
The event closed with the annual "The IP Year in Review: Patent, Trademark and Right of Publicity, and Copyright," presented by professors Shyamkrishna Balganesh (Columbia Law School), Nicole Morris (Emory School of Law) and Jennifer E Rothman (Pennsylvania  Carey Law School), who discussed the most significant cases in each segment of IP law in the past year.
The Intellectual Property Institute is the leading conference hosted by a top rated law school in Southern California, and attracts industry experts from local areas and beyond to address emerging issues shaping the ever-evolving intellectual property landscape.
USC Gould School of Law offers continuing legal education opportunities for professionals who want to learn and network with leading experts in their industries. A fixture of the Los Angeles legal community since 1948, USC Gould Continuing Legal Education hosts six annual conferences for professionals at every level to learn from, and network with, the biggest players in entertainment, estate planning, business, tax and intellectual property. To learn more, visit or subscribe at gould.usc.edu/cle – and follow on Twitter, Instagram, Facebook and LinkedIn.