The 2019 Institute on Entertainment Law and Business convenes attorneys, artists, and executives.
By Raquel "Rockey" Greenberg
At the 2019 Institute on Entertainment Law and Business on Oct. 26, Chairman of FX Networks and FX Productions John Landgraf presented a keynote about the current landscape of the entertainment industry, his mission to increase diversity at FX, and the launch of streaming service Disney+.
For more than 60 years, the institute has been the nation's leading conference for entertainment and legal professionals. Hosted by the USC Gould School of Law and the Beverly Hills Bar Association, the event draws key industry players, and USC Gould students, to learn about the most pressing issues, recent deals and executive business perspectives in entertainment law.
Navigating the Digital Disruption
Discussions included a music panel with producer and composer Trent Reznor — of Nine Inch Nails fame — who explored disruption and convergence in the music industry, demands and expectations made by musical artists, and optimizing the artist's business opportunities while navigating risks. In addition, Reznor and his team talked about enforcing rights and music licensing for advertising purposes, while considering an artist's reputation and integrity.
Entertainment media including Variety, the Hollywood Reporter and Deadline reported on Landgraf's statements around diversity and competition.
The Streaming Frontier
"[T]he American consumer is absolutely overwhelmed with choice; more choice than they could possibly pay attention to," he said. But despite the saturated TV market and abundance of streaming services, Landgraf said he is far from worried about the position of FX content. In fact, he said he believes FX is ahead of the game.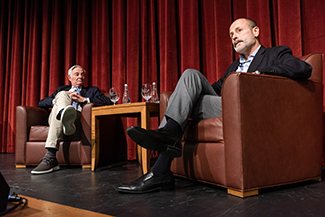 Bruce Ramer (left) and John Landgraf (right) at the 2019 Institute on Entertainment Law and Business (Photos by Chris Flynn)
Noting Disney's Marvel, Pixar, Hulu, ESPN+ and Disney+, Landgraf affirmed that his parent company was fully prepared to be a major force in the streaming services arena.
Furthermore, Landgraf expressed that FX's position in the larger Disney ecosystem is to continue making the best scripted programming in the market for adult viewers. He mentioned his excitement for Disney+ since its announcement, as it will provide a streaming platform for FX content.
Diversity Efforts
Landgraf went on to speak about the FX brand itself and his desire to create a company environment where creative people could thrive. He explained that FX aims to unify characteristics of originality, quality, boldness and bravery into its content with consistency.
Since the emergence of concerns about company diversity nearly four years ago, Landgraf has launched a diversity initiative and implemented an inclusive agenda within FX. He disclosed that FX's writing staff are now nearly 60% women or people of color. In addition, more than half of FX's director roster is women or people of color.
"We are a diverse society," he said, "and our organization is better, in every respect, for having embraced the potential of our entire society."
Find out more about USC Gould's Continuing Legal Education offerings.