PJ Shapiro (JD/MBA 1999) and colleagues launch new entertainment law firm with civic engagement in its DNA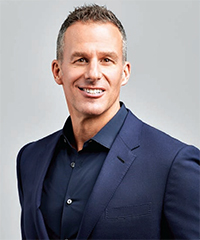 By his own account, entertainment lawyer PJ Shapiro (JD/MBA 1999) had the dream job. For the last eight years, he was managing partner in the boutique firm of Ziffren Brittenham LLP. But as the pandemic threw Hollywood into chaos and the George Floyd protests ignited a racial reckoning, Shapiro woke up to a new reality.
"Like every other business in Los Angeles," he says, "we were taking a look in the mirror and seeing if we could do better."
In January 2022, Shapiro and three like-minded colleagues launched Johnson, Shapiro, Slewett and Kole, a new entertainment law firm emphasizing "values-driven excellence and social impact." All four founding partners are perennial honorees on The Hollywood Reporter's Power Lawyers list. In an April 6 article, THR called JSSK "a next-gen boutique with inclusion, philanthropy and civic engagement in its DNA."
The mission, Shapiro says, was to "create a firm that better reflected the demographics of our client base, our community and our personal vision for the future." Of the 14 lawyers at JSSK, more than half are women and six are people of color.
It was difficult to leave. "We felt a tremendous amount of loyalty, love and affection for Ziffren Brittenham," Shapiro says. "But at the end of the day, Matt (Johnson) and I wanted to build a new house instead of remodeling our beautiful house of 20 years."
In less than a year, JSSK had already made maverick moves. Its members played a meaningful part in crafting the diversity and inclusivity rider now considered a critical component of production agreements industry-wide. Organizationally, it recruited a chief engagement officer who promotes advocacy work among firm employees and helps clients navigate social and political action opportunities. JSSK collaborates with a long list of activist groups, and the partners regularly host political fundraisers.
"The energy is electric," says Shapiro.
From Dentistry to Entertainment Law
Growing up in Chatsworth, Calif., Shapiro attended UCLA as a pre-med major. Just days into his dentistry program, also at UCLA, Shapiro realized he would "be a horrible dentist — I hated science, felt sick at the sight of blood and had very poor manual dexterity," he explains.
He entered USC's joint JD/MBA program and considered pursuing a career in investment banking. However, friends urged him toward entertainment law.  An internship at O'Melveny & Myers LLP led to a job offer and his career.
At Gould, Shapiro was the 1L class representative and graduated Order of the Coif while making the Dean's List at USC Marshall School, where he completed an MBA. He was influenced by former Gould Professor Erwin Chemerinsky, whose above-board negotiation style Shapiro incorporates into his own practice.
In an industry known for playing hardball, Shapiro strives to be a mensch.
"This was not a financially motivated decision," he says, of the creation of JSSK. While the firm represents A-list talent like Bryan Cranston, Selena Gomez and Emma Stone, it also prioritizes veterans and people with disabilities in the entertainment space.
"I come from a pretty humble beginning and have reached a level of success that I never imagined," he says. "This is about creating a new chapter of giving back."