Garry makes amicus curiae submission at hearing before Appeals Chamber of the International Criminal Court (ICC).
By Leslie Ridgeway
On Dec. 6, Prof. Hannah Garry traveled to The Hague, Netherlands, to make amicus curiae submissions together with former UN Special Rapporteurs before the Appeals Chamber of the International Criminal Court (ICC), which held a hearing to receive arguments in the appeals of the prosecution and victims of alleged war crimes in Afghanistan.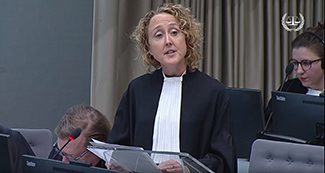 Prof. Hannah Garry making her submission to the International Criminal Court in The Hague.
The hearing follows the ICC Pre-Trial Chamber's rejection in April of a request to open an investigation into war crimes in that nation, which is a member of the ICC.
"It was an honor and privilege to participate in these important proceedings on behalf of victims who have waited far too long for justice," said Garry, who directs the International Human Rights Clinic at USC Gould. "It is my hope that the Appeals Chamber does the right thing and corrects the Pre-Trial Chamber's denial of an investigation which has only increased the injury done to victims of atrocity crimes in Afghanistan."
In her submission, Garry argued for the investigation by asserting that the Pre-Trial Chamber had incorrectly interpreted international criminal and human rights law in reaching its decision. She noted that there was reason to believe that torture had been practiced by Afghan National Security Forces as well as the U.S. military and CIA since 2003, citing the United Nations Convention Against Torture (CAT), the International Covenant on Civil and Political Rights and the Geneva Conventions.
Garry pointed out that under the CAT, nations are obligated to criminally prosecute torture, yet this had not happened in the case of Afghanistan. She also noted that nations' failure to investigate the alleged torture denied the victims their rights to an effective remedy, reparations and truth under the CAT and other international statutes. The ICC's decision effectively barred victims from their last opportunity to seek justice, Garry argued, and sent a message to nations that they could act with impunity when it comes to torture.
"The Chamber's decision also dangerously signals that power is not bound by law," Garry told the Chamber. "When it comes to torture, impunity simply cannot be tolerated, particularly with respect to the most powerful countries. The practice of such countries has ripple effects, leading to more torture and undermining of rule of law."
Garry urged the Chamber to recognize the rights of victims, restore their dignity and help to "cut short a cycle of violence that was birthed following the tragic events of Sept. 11, 2001."

"As a citizen of the United States who cares deeply for its leadership role in upholding rule of international law, not undermining it, I implore the ICC to step in and fulfill its mandate where my country and others have failed to address this vicious cycle," she said.