Prof. Ariela Gross' new book "Becoming Free, Becoming Black: Race, Freedom and Law in Cuba, Virginia and Louisiana" explores role of law in creating regimes of race.
By Leslie Ridgeway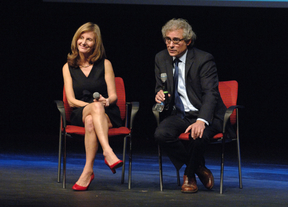 Prof. Ariela Gross and coauthor Prof. Alejandro de la Fuente. (Credit: Photo courtesy of the University of Houston)
Who qualifies for citizenship in the United States? Prof.
Ariela Gross
ponders that question and historic policy decisions on freedom and race in her new book, "
Becoming Free, Becoming Black: Race, Freedom and Law in Cuba, Virginia and Louisiana
" (2020, Cambridge University Press). Co-written with Harvard University Prof. Alejandro de la Fuente, the book, to be released early next year, explores the efforts of free people of color to employ the law in asserting their freedom and rights to citizenship. Using the examples of three slave societies in Cuba, Virginia and Louisiana, Gross and de la Fuente delve into the importance of law in creating regimes of race, how different legal regimes define what race means in different parts of the world, and how the law of slavery was less influential on those differences than the law of freedom. "The laws regulating free people really created those racial categories, especially the equation of whiteness with citizenship," says Gross. "We hope to highlight that deeper history of the idea that citizenship is for white people."
Surprising discoveries shine light on struggles to prove freedom
Over 10 years of research, Gross and de la Fuente came across many shocking and heartbreaking anecdotes and historical facts illuminating the struggles of people of color to confirm their freedom and citizenship. Gross was stunned to discover "Not a Negro" certificates in archives for the state of Virginia. Long rumored among historians, the certificates exploited a loophole in state laws restricting movement of people of color, verifying the holder was not black but a person of mixed ancestry or another ethnicity. She also came across advertisements from people of color desperate to recover lost "free papers," papers proving good character that were used for protection. "This resonates with the experiences of people today of having to show their papers – even people who are citizens," says Gross. "You could see in the language of these ads the terror the people lived under if they couldn't get a copy of their free papers." The book strikes a timely chord in a nation wrestling with the legacy of slavery. Today's challenges to citizenship echo the negative beliefs that even white opponents of slavery like Thomas Jefferson and Abraham Lincoln held about the possibility of whites and blacks living in equality. "We're very much seeing the same questions today as birthright citizenship is challenged by our president and others in his party," Gross says. "We're seeing a resurrection of the same issues." Book readings are scheduled in early February at Chevalier's Books in Hancock Park and Politics and Prose in Washington, D.C., and a book talk at USC Gould will take place April 17.