USC Gould, partner schools make mark with Southern California Law Pathways events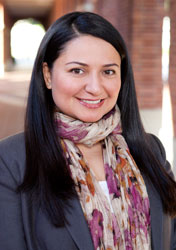 Brenda Cortez-Martin, USC Gould School of Law associate director of admissions was a collaborator on the Southern California Law School Coalition.
The Southern California Law School Coalition – a collaboration between Brenda Cortez-Martin, associate director of admissions at the USC Gould School of Law, and two peers from UC Irvine School of Law and Loyola Law School – was awarded the California Leadership-Access-Workforce (LAW) Diversity Champion Award for 2022.
The award was established in 2016 by the board of directors of Cal LAW to recognize outstanding efforts in supporting diversity, equity and inclusion within the law field. Cortez-Martin shares the award with Kelly Greer of Loyola Law School and Estuardo Ponciano of UC Irvine School of Law.
"It's such a great honor to be recognized by the California LAW board for all the work we are doing in regards to pipeline and outreach efforts," said Cortez-Martin. "Through our strong vision for collaboration, we've been able to pull resources to have a broader reach. We are all committed to increasing awareness and access [to law school], and we're demonstrating that we can do more [together] than we can do individually."
The partnership's first effort launched in late 2020 – Southern California Law Pathway Day, a virtual event aimed at prospective community college and high school students interested in law careers, especially those who are underrepresented. That led to the creation of the law summer boot camp, a three-day virtual workshop in June introducing underrepresented community college students to key aspects of law school, including admissions, financial aid and planning, as well as a mock law class taught by Professor Jody Armour.
About 175 students attended and each day was organized under one of three themes – Envision, Explore and Empower. Students received homework assignments to help instill what they were learning, Cortez-Martin said. Breakout sessions familiarized students with resources such as the Law School Admission Council, Access Lex Institute, and the Kahn Academy for practice LSAT tests. Students also reviewed financial resources with a panel that included 3L Chief Coleman, former president of the Barbara L. Bice Public Interest Law Foundation and the Black Students Law Association, and Ashley Zavala (JD 2020), now an associate at Hahn & Hahn LLP.
Cortez-Martin, Greer and Ponciano plan to grow the Pathways support programs. "I can't begin to express how grateful our participants are. We make it clear from the start that institutions such as USC Gould care about their future and that a career in law is possible, even if you are a first-generation student or if you come from financially challenging homes," Cortez-Martin said. "There are many resources available – we just teach them how to find them."
The California Leadership-Access-Workforce (California LAW) program was started in 2016 under the leadership of the State Bar of California's Council on Access and Fairness (COAF) and with support from the Law School Admission Council (LSAC) to provide a clear educational pipeline for diverse students from high schools, community colleges, and four-year institutions into law schools or law-related careers.
Martin said the pipeline programs are not only professionally satisfying for her and her colleagues, but also personally inspiring. As a youngster living in the neighborhood around USC, she attended the 32nd Street School/USC Magnet and knows from experience how valuable and appreciated educational support can be.
"[USC] made a huge impact on me [by] providing advance math tutoring, creative writing workshops, and theater classes while I was in elementary and middle school," she said. "When I came to work at USC Gould, it was full circle. I knew I wanted to contribute and build partnerships to assist with outreach in our area. It's the right thing to do."