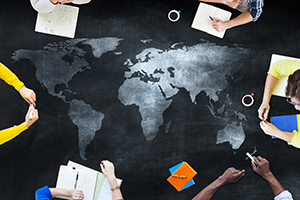 The partnership with O.P. Jindal Global Law helps students deepen their understanding of the law and legal systems.
The USC Gould School of Law, through its Graduate and International Programs Office, has launched a new partnership with O.P. Jindal Global University, expanding the opportunities for students to study abroad and gain international experience during their time in law school.
"We are thrilled to partner with O.P. Jindal Global law school, one of the most prestigious law schools in India. We have graduated several of their alumni from our Master of Laws degree, and are excited to formalize our relationship through this exchange agreement," said Sarah Gruzas, director of Graduate and International Programs at USC Gould. "This is a particularly exciting time for this partnership, as the practice of law in India is flourishing. As we look ahead to an increasingly international practice of law, USC Gould is committed to expanding our global reach through our diverse student body and partnerships with top-ranked law schools around the world."
More than 100 students from University of Hong Kong; Bocconi University in Italy; University Jean Moulin Lyon III in France; Bond University in Australia; and Fundação Getulio Vargas University in Brazil have participated in the exchange programs since 2004. With two students set to participate from Jindal in Fall 2022, USC Gould's international presence will grow to six destinations for students.
Law students in good standing and who have completed one year of study are eligible to apply to enroll in up to a year's worth of classes at the partner university of their choice, receiving credit toward their degree from their home institution. The application process includes interviews and a faculty reference, with the selected students receiving enrollment and visa information from the partner university once accepted.
At USC Gould, these programs allow students to deepen their understanding of the application and importance of law and legal systems, as well as encourage students to form professional and personal relationships with the partner institutions.
"USC Gould has always recognized the value of diversity," Gruzas said. "Bringing together students and faculty with different backgrounds and perspectives creates a unique and expansive opportunity for learning and understanding. As the practice of law becomes more and more global, it is critical for the success of our graduates to have the opportunity to connect with and learn from practitioners around the world."
The partnerships also help to elevate awareness of USC Gould in different parts of the world. Several international students have gone on to obtain their LLM degree through USC Gould as a result of these programs, Gruzas explained.
"Jindal is one of the top private law schools in India," Gruzas said, "and it's a great connection for USC Gould."