Striving for Juvenile Justice
Wednesday, August 8, 2018
PCJP's first juvenile LWOP resentencing client released from prison.
"She talked and I listened, and then I would explain that our Project did not have the capacity to take any new resentencing cases," Rummel said. "But Mrs. Ruiz is not one to give up, and in the end, we said yes."
At the age of 17, Ruben Ruiz was involved in beer run turned fight at a liquor store where a clerk was beaten to death. Convicted of special circumstance murder, he was sentenced to life without the possibility of parole.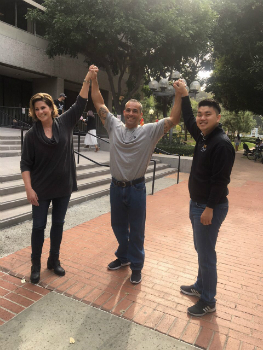 Prof. Heidi Rummel, client Ruben Ruiz and law student Jihyuk Song '19
"When I started contacting Heidi, and PCJP, Ruben was in his 30s," recalls his mother. "I just kept ringing the bell."
The calls began in 2012—a time when the legal landscape was shifting for juvenile offenders. The U.S. Supreme Court had ruled that sentencing juveniles to life sentences without the possibility of parole, or LWOP, had serious constitutional implications.
Meanwhile, California passed the Fair Sentencing for Youth Act that allowed juveniles to petition the courts for resentencing to life terms with the possibility of parole. USC's PCJP was a co-sponsor of the Fair Sentencing for Youth Act and several subsequent juvenile justice bills that give young people a second chance.
"Ruben made a terrible mistake as a teen," said Rummel, who directs PCJP. "But he spent more than half his life in prison, and he worked to better himself and make amends without any hope of release. California's recent reforms were created with someone like him in mind."
PCJP students worked tirelessly on his case, and Ruben Ruiz was resentenced in 2014 under the Fair Sentencing for Youth Act. They worked another three years to convince the parole board and California Gov. Jerry Brown that Ruiz had been completely rehabilitated and should be released.
Following the Governor 's 2015 reversal of parole, PCJP achieved victory in November 2017.
Ruiz became the PCJP's first juvenile resentencing client to be released from prison.
"He changed so much from the gang-involved teenager he was when he entered prison," said Elizabeth Ligon '17, one of three PCJP students who worked closely with Ruiz over the years. "I am so happy and excited for him to finally get another chance."
Ruiz had grown accustomed to disappointment.
"I have had a lot of legal representation, but nothing compared to the representation I received from USC law," Ruiz said. "They never gave up on me. They spent hours with me on my case. I would not be out of prison if it wasn't for the students."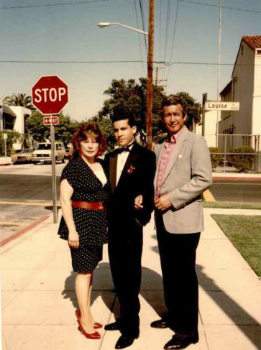 Ruben Ruiz, at age 17, (center) with his parents
Ruiz, now 42, earned two college degrees while in prison and is committed to making amends to his family and community.
His nearly 25 years behind bars—including a decade in solitary confinement—made him "grow up and truly take responsibility," he said. "Those years in (solitary confinement) were the hardest of my life, but I'm grateful I was put there. It truly made me reflect and become a better person."
Ruiz began studying the law through journals from the prison library.
"I spent my days reading case law and teaching myself," he said. "I filed appeals, but was never successful. The (passage of) the juvenile justice bills gave me hope. Before that, I was certain I would die in prison."
Ruiz's knowledge of the law and his commitment to his own rehabilitation were inspiring, said his team of USC law students.
"I'm grateful to have had the opportunity to help him. It was definitely the most meaningful and interesting work that I did in law school," said Ligon.
Jihyuk Song, a second-year student, came to admire his client. "Ruben is brilliant, humble, and very self-motivated," he said. "I have learned so much from his growth and maturity.
"Representing a client is like taking a journey together," Song added. "The value of going through the downs—numerous denials—in order to eventually achieve our goal together—parole—is something I would not have learned inside a classroom. I am very thankful."
Julia Deixler '14 was a second-year law student when she began working with Ruiz. She was so convinced he should be resentenced that she continued to represent him after she was hired as an associate at O'Melveny in Los Angeles. She was the first USC law student to meet with Ruiz, and continued to do so on a regular basis as they prepared for his resentencing hearing.
"Ruben's case presented a perfect example of the need for California courts to reexamine the sentences of juvenile offenders. His role in the crime was a reflection of his youth and life circumstances at the time, not an indication of the man he is today. The entire process of working on this case -- from gathering evidence, preparing his family members to testify, and working with Ruben to get ready for his hearing -- was such a privilege because I really believed wholeheartedly that he should be released."
RECENT NEWS