Andrew Guzman reappointed dean of USC Gould School of Law

USC Gould School of Law
Thursday, April 23, 2020
Memo from USC Provost Charles F. Zukoski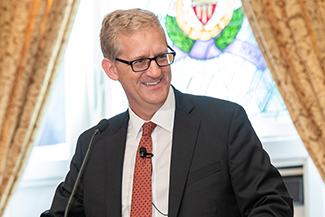 Dean Andrew Guzman addresses the audience at the school's 120th anniversary Conversation with the Deans event in October.

On behalf of President Folt, I am pleased to share the news that Dr. Andrew Guzman has been reappointed for another five-year term as dean of the USC Gould School of Law. Dean Guzman's reappointment comes after a comprehensive review of his leadership of the school.
We carefully considered the thorough input offered by Gould faculty and staff. Dean Guzman was praised for his long-term vision for USC Gould as well as his deep understanding of the future of law and legal education. He was credited for his leadership of an administrative team that, through judicious resource management and the development of new certificate and degree programs, has positioned USC Gould to execute and expand its academic mission.
In the midst of the COVID-19 pandemic, we face many daunting challenges as a university community, but it is always important to pause and celebrate good news when we have it. President Folt and I thank the Gould faculty and staff for their participation in the process, which showed how deeply they care about their school and students.
Please also join us in thanking Dean Guzman for his continued service. We look forward to his stewardship as USC Gould continues to excel through and beyond the pandemic.
Charles F. Zukoski
Provost and Senior Vice President for Academic Affairs
RECENT NEWS