University honors Gould faculty

USC Gould School of Law
Tuesday, November 24, 2020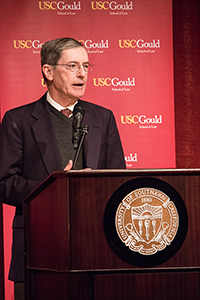 Ron Garet
Ron Garet – the Carolyn Craig Franklin Chair in Law and Religion, Emeritus, at USC Gould – received the 2020 Faculty Lifetime Achievement Award at the university's 39th annual Academic Honors Convocation, held online in October. The award is presented to a very select number of retired faculty in recognition of eminent careers and notable contributions to the university, the profession and the community.
This year, Garet was one of only four recipients.
Garet is a pioneering interdisciplinary scholar, whose scholarly works explores the intersection of law and religion. For more than 40 years, he established himself as a pillar of the Gould School and the USC community through his inspirational teaching, invaluable service and trailblazing research.
Previous Gould recipients include Chris Stone (2014), Marshall Cohen (2009) and David Slawson (2007).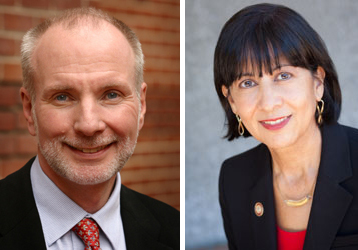 Tom Griffith and Pauline Aranas
In addition, two other retired Gould professors were recently awarded emeriti faculty designations. Upon the recommendations of the law school, the university granted
Tom Griffith
the status of
John B. Milliken Professor Emeritus of Law and Taxation
, and
Pauline Aranas
has been named the
John Stauffer Charitable Trust Chief Information Officer, Emeritus
, and
Law Librarian Emerita
.
RECENT NEWS