A long journey to good works

USC Gould School of Law
Wednesday, May 11, 2022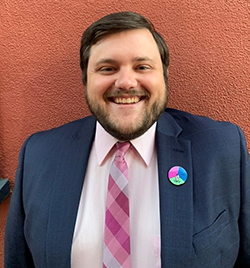 Irmas Fellow Alex Tron will work with California Legal Assistance in Oakland after graduation. (Photo / Alex Tron)
When Alex Tron entered USC Gould, their mission was to "do good in the world." This year, they have the support to do just that as winner of the Irmas Fellowship, awarded annually to a USC Gould School of Law graduate for a full year in the area of public interest law.
Tron's fellowship will be with Oakland-based nonprofit California Legal Assistance, where their project is creating a re-entry network for low-income residents in California's rural central coast, where Tron has roots. The project involves using pro bono and community partnerships together with direct services to fight discrimination.
Tron calls winning the fellowship "the culmination of a long, long journey."
"I'm a non-traditional student, and have had to battle my demons and overcome homelessness to get here," Tron said. "I came to law school to do good in the world, and I know that with the support of the USC community through the Irmas Fellowship, I will be able to accomplish that goal."
Post-fellowship, Tron plans to continue sharpening their skills in reentry. They hope to eventually expand their project to include all of rural California.
"In the future, I aspire to use my experience to work in the policy space to help create a more just and equitable California," Tron said. "To that end, I have numerous skills and experiences from Gould that I have to thank for that."
Tron acknowledged several USC Gould faculty as instrumental in helping them develop as a public interest attorney, including Professor Clare Pastore, whose Poverty Law and Suing the Government courses "provided a necessary foundation for my career," as well as Professor Preston Ascherin, who helped Tron obtain an externship with a re-entry nonprofit where Tron authored a white paper. Professor Abby Wood's Money in Politics course and the Legislative Policy Practicum taught by Professors Heidi Rummel and Elizabeth Calvin helped introduce them to policymaking, they said.
Tron credited their family for providing a steady foundation in the midst of the uncertainty of the pandemic. "It was an incredibly difficult time, but I wouldn't be here today without their love and support."
RECENT NEWS