Gould Preview welcomes 31 incoming 1Ls

USC Gould School of Law
Wednesday, December 14, 2022
New additions to program include welcome reception and scavenger hunt
By Yulia Nakagome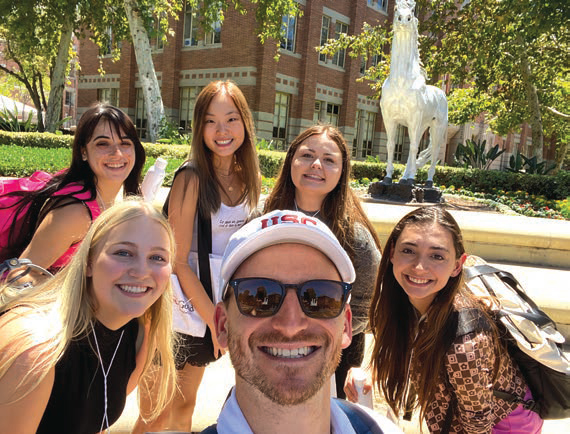 A scavenger hunt was a new activity this year for Gould Preview. Participating were 1Ls (clockwise from bottom) Charlie Murphy, Brett Jennings, Rachel Katz, Jennifer Chen, Brooke Parin and Arianna Benitez.
An introduction to torts and legal writing, as well as a welcome reception, networking opportunities and a scavenger hunt were among the events at this academic year's Gould Preview, a pre-orientation program for incoming 1Ls.
Held this past August, 31 incoming students participated in the Gould Preview program, which introduced them to academic law school classes and helped them develop critical skills, such as outlining and briefing cases, and allowed them to begin building a community.
Students engaged in classes with all three 1L Torts professors —
Donald Scotten
,
Gregory Keating
and
Erik Hovenkamp
— and in legal writing with Professor
Lybby Carroll
. The Academic Success team including Professor
Sue Wright
, director, and two student fellows, 3L Jessica Block and 2L Kat Ulrich, presented skills workshops, followed by a practice law school exam on the program's final morning.
In its second year, Gould Preview included a welcome reception hosted by Reed Smith LLP where Managing Partner Amber Finch (JD 2002) passed along words of encouragement. It also featured a sharing exercise led by Dean of Students Dr.
Nickey Woods
and Director of Student Care and
C. David Molina First Generation Professionals Program
Dr. Malissa Barnwell-Scott, as well as a scavenger hunt competition to familiarize students with the campus while they got to know their classmates.
"The opening welcome reception on Monday evening was very successful because it allowed the students to start building relationships in a social setting before they started their 'classes,' so that when they sat down for the first workshop on Aug. 9, they'd already made some friends and felt more comfortable," Wright said.
Many students shared positive feedback with Wright following the event, and she was quick to credit the contributions of many across the Gould community for this year's successful outcome.
"I really appreciated how many people from Gould stepped up to help out, both last year and this year," Wright said. "It takes many people to put on an event like this — faculty members; upper-division students; and our wonderful Gould departments including Events, Communications, IT, Student Affairs and more. It's a true Gould community event that is extraordinarily beneficial to those students who attended."
Read More
RECENT NEWS