USC Law Accepts GRE and LSAT in Next Round of Applications

USC Gould School of Law
Thursday, Jun 14, 2018

Contact: Gilien Silsby, USC Gould School of Law News Service, (213) 740-9690 (office) (213) 500-8673 (cell) or gsilsby@law.usc.edu
MEDIA ADVISORY
USC Law Accepts GRE and LSAT in Next Round of Applications
Move comes after ABA began looking at access to legal education
USC Gould School of Law will begin accepting both the Graduate Record Exam (GRE) and the Law School Admissions Test (LSAT) next fall in an effort to appeal to a larger number and more diverse group of applicants.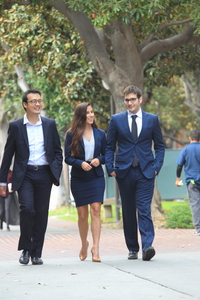 USC Gould applicants will have more entrance exam options this fall.
"USC has a long history of encouraging interdisciplinary studies, and we hope that students with an interest in multiple disciplines will consider pursuing joint degree programs that include a law degree," said Andrew T. Guzman, dean of USC Gould. "We are confident that we will attract a broader group of law school applicants by offering more entrance exam choices."
Beginning in September 2018, USC law school applicants may submit either or both the GRE and the LSAT.
"The addition of the GRE offers prospective students greater flexibility and options," said David Kirschner, Gould's dean of Admissions. "We want to open the possibility of law school to those students who have a background in science, technology, business and engineering. We will continue to accept the LSAT and expect it will remain the predominant standardized test for our applicants."
USC Gould joins several other Top 20 law schools that are also now accepting GRE scores.
This comes a year after the ABA formed the Commission on the Future of Legal Education to look at issues involving access to legal education, including admission test scores, bar passage rates and job placement.
"Our goal is to attract the very best students who have varying backgrounds and interest in disciplines. We will continue to adhere to a holistic admissions process, where we consider many factors, including the student's background and experiences," Kirschner said.
Accepting the GRE will reduce application costs for those who might otherwise have to take both the GRE and LSAT. In addition, the GRE is offered on-demand, in multiple locations, providing more flexibility for when and where prospective students can sit for the exam.
Read More
RECENT NEWS