The Equal Justice Works Fellowship is an opportunity for those passionate about equal justice to pursue a career in public service. This year, 3L Matthew Palmquist was named the winner of the Equal Justice Works Fellowship, the first USC Gould Public Interest Scholar to win the fellowship.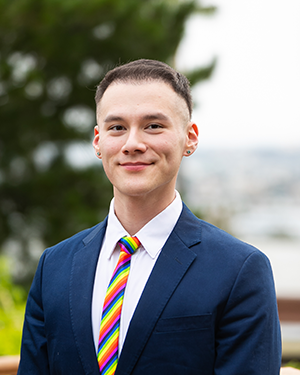 Matthew Palmquist is the first USC Gould Public Interest Scholar to be selected for the Equal Justice Works Fellowship. (Photo / Matthew Palmquist)
Palmquist will provide representation for detained LGBTQ migrants at the Florence Immigrant and Refugee Rights Project in Phoenix, Arizona, from 2022 to 2024.
"Arizona actually sends more immigrants to ICE detention than California, despite being about one fifth as populous," Palmquist said. "In addition to lacking a familiarity with the U.S. legal system, many queer migrants have experienced unspeakable trauma. This makes it harder for them to articulate their claims without a lawyer."
Personal experience motivated Palmquist to attend law school. His mother immigrated to the United States from South Korea at a time when racist immigration quotas were a barrier for Asian immigrants. Growing up as a gay man in a conservative town also influenced his career choice.
"It wasn't great, but thanks to the privilege of my U.S. citizenship, I could leave and move somewhere more LGBTQ friendly," Palmquist said. "However, the homophobic bullying I experienced is nothing close to the horrific violence that threatens many LGBTQ people –– particularly, transgender individuals –– abroad. Many queer people around the world do not have this freedom of movement, and relocating within one's country is not an option when the oppression of LGBTQ individuals is state-sanctioned."
Palmquist said he owes a "great deal" of his skills to the USC Immigration Clinic and its co-directors, Professor Niels Frenzen and Professor Jean Lantz Reisz. Reisz praised Palmquist for his passion and dedication to immigration rights.
"[Matt] also is confident and eager to accept challenges, which is necessary for this fellowship which will require a lot of initiative and leadership," she said.
As an example of Palmquist's commitment, Reisz noted he wrote the opening brief in a Ninth Circuit Federal Court of Appeals case in which a 19-year-old asylum seeker who was part of the "Remain in Mexico" program, had represented himself in immigration proceedings.
"After filing the opening brief that was very persuasive, the government agreed to remand our client's case for a new hearing where the client can fully present his claim for asylum," Reisz said. "The clinic, and Matt until graduation, will continue to represent this client."
Reisz is confident that Palmquist will be successful in his fellowship.
"Matt is always a joy to meet with and he remains positive and encouraging to his fellow clinic students which is not easy given the heavy content of our work," she said. "I am very proud of him and know that he will be an asset to the EJW program and the Florence Project."
Palmquist expressed gratitude for Rachel Kronick Rothbart, director of the USC Gould Career Services Office, who he called "the best resource, counselor, cheerleader, and trusted confidante that any public interest law student could ask for."