Prof. Clare Pastore's winning approach to public interest law.
By Anne Bergman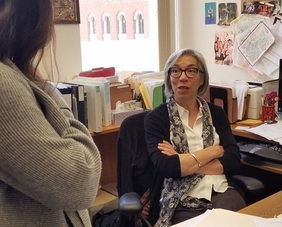 Prof. Clare Pastore views her students as colleagues, banding together to not just win one case, but to work on cases that have a wider impact.
Over the course of a career devoted to poverty law and civil rights advocacy, Clare Pastore, a professor of the practice of law at USC Gould, has encountered many types of cases, from unfair driver's license suspensions to welfare cuts to disability discrimination to wage theft to the challenging process of becoming a foster parent. Pastore takes on these cases not just to help the individuals involved, but to solve the underlying, wider problems.
Her approach succeeds. Pastore is considered one of the top public interest attorneys in the country, widely recognized for legislative work and litigation strategies that prevent low-income people from spiraling into crushing poverty.
As she puts it: "How much should someone suffer for a bad choice? Plenty of middle-class kids have a drug problem or an arrest or a teenage pregnancy… but if you're growing up in circumstances where there are no resources, that choice will define and probably derail your life. Get on drugs, leave school, get arrested — those things will irrevocably alter the course of your life, and I don't think that's right."
Pastore's compassionate perspective comes from a personal, practical place. She grew up in a "single-parent, very poor family" in Connecticut, a "really, really wealthy part of the country." She was fully aware of the disparity. Pastore was also first in her family to attend an elite university, majoring in French literature at Colgate University, a private liberal arts college in upstate New York.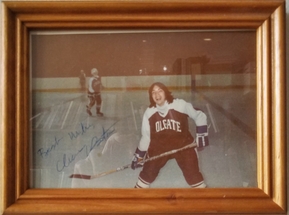 Prof. Pastore's status as a college athlete opened her eyes to the inequities in how men and women athletes were treated.
Her status as a college athlete (field hockey team and ice hockey club) at a conservative academic institution in the early 1980s opened her eyes to the inequities in how men and women athletes were treated. "Why do the men get the new uniforms, and we get the old ones? Why do they get this, and we don't get that? And then all of the other aspects of gender relations on campus, that all made me examine a lot of things. Colgate turned me into a political activist. I think that was certainly not their intent," she says.
After graduating from Colgate, Pastore landed a Fulbright teaching grant and spent a year as a teacher in a Paris public school. While in France, she became involved with the disarmament movement, advocating for a freeze on nuclear weapons. In that year, Pastore realized that she couldn't see herself pursuing advocacy work with only an undergraduate degree.
So she returned to the States and pursued a JD at Yale Law School, where she was a senior editor of the Yale Law Journal. Pastore split her 1L summer by working for a public interest agency and a refugee organization, both in Los Angeles. Her second summer brought her to Geneva, where she worked for the United Nations High Commission for Refugees.
Role Model

After graduating Yale, Pastore returned to the West Coast to clerk for Judge Marilyn Hall Patel, U.S. District Court for the Northern District of California. Pastore regards Patel — the first woman judge in the history of the district and renowned for her courageous jurisprudence and commitment to civil rights — as a role model.
On the first day of her clerkship, Pastore learned of a new two-year fellowship launched by law firm Skadden Arps to fund law school graduates and judicial clerks to work full-time for legal and advocacy organizations.
Pastore applied for the fellowship with Los Angeles-based Western Center on Law & Poverty in 1989 and became part of the Skadden Fellowship's very first class.
She ended up extending her two-year fellowship to 15 years as a staff attorney at the Western Center. There, she litigated many state and federal cases involving poverty law and disability rights, capturing the attention of Prof. Scott Altman, then an associate dean at Gould.
"My wife, Laura, worked with Clare at the Western Center," Altman recalls. "One day she heard Clare being interviewed on the local NPR affiliate talking about one of her cases. I sat down to listen to her, and I was mesmerized. She was lucid and persuasive. I told my wife that I had to hire her to teach at the law school."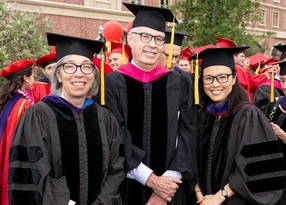 Prof. Clare Pastore at the 2019 Commencement ceremony, with colleagues Prof. Greg Keating and Prof. Emily Ryo
Altman reached out to Pastore to teach a poverty law class, which she still teaches more than 20 years later. Four years ago, she and three colleagues wrote a Poverty Law textbook, now in use at law schools around the country. Years later, her love for France remains relevant—Pastore recently returned from her fourth stint teaching a mini-course on U.S. civil rights law to French law students at a USC partner university in Lyon, France.
"As a teacher, Clare is incredibly smart, clear-thinking and organized," says Altman. "She also has vast experience in poverty law and civil rights law. There aren't that many people who are well versed in both of those things."
In 2000, Pastore, who at the Western Center had done some work with foster care cases, found herself a foster parent, charged with caring for her niece and nephew. "My two daughters were 3 and 5 and my niece and nephew were 12 and 14, so it was a big change for our household," she says.
As she began enrolling them in school and setting up their health care, Pastore was shocked by the complexities of the tasks. "It was ridiculous how difficult that was," she recalls. "It required every ounce of my seven years of higher education, and my years of advocacy, just to get their problems solved, and their needs were not complex. I realized that these experiences weren't that far away from those of my clients. Since then, my experience as a foster parent has often served as a kind of bridge with clients who have also experienced it."
Pastore segued to a full-time, newly created position on Gould's faculty in 2007 after serving a stint at the ACLU of Southern California as senior counsel from 2004 to 2007, and of counsel from 2007 to 2011. As Professor of the Practice of Law, she splits her time between classroom teaching (Civil Procedure, Professional Responsibility, Civil Rights, Suing the Government, and Poverty Law) and the Access to Justice Practicum, in which she and students work with nonprofit advocates on issues of civil rights, poverty, disability, and access.
Public Interest Encouragement

In 2013, Pastore received the Elizabeth Hurlock Beckman Award, a $25,000 national award recognizing educators "who have inspired their former students to make a significant contribution to society." She split the award with the Wage Justice Center, on whose board she serves.
In 2016, she oversaw the development of the public interest certificate for students who want to work in the nonprofit or government sectors after graduating from Gould.
Creating the certificate is a continuation of Pastore's efforts to encourage her students to pursue public-interest careers.
"I came to law school to do public interest — it was already in my mind," says Matt Sirolly (JD 2005), an attorney at the
Over the years, Prof. Pastore has earned many recognitions for her public interest work.
California Department of Industrial Relations. "Working with her and attending her poverty law class and hearing her own story about her career made me think more concretely about how the work I could do could be useful."
"Early on after we started the Wage Justice Center, Clare expressed an interest in our work," Sirolly recalls. "She came in and joined the board and played a huge part in helping to bring the organization from this incubated, half-real thing into being an actual, real, functioning organization. She brought to the board a practical, nitty-gritty focus, combined with an idealism. People are usually practical or idealistic, not both. She merges the two nicely."
This blend of nitty-gritty focus and idealism fuels Pastore's decision-making when she's selecting which cases she and students from the Access to Justice Practicum take on.
They recently teamed up with a coalition of civil rights lawyers to work on addressing the massive numbers of suspended driver's licenses in California for people too poor to pay the state's high traffic fines and fees. Over the last five years, the coalition has secured legislation ending suspensions for those too poor to pay and settled cases with several courts over their policies. Litigation against the DMV is ongoing.
This semester, one group of students wrote a legislative report and testimony supporting a related bill to make traffic school accessible to those who can't pay their entire fee immediately. Another group is working with the Alliance for Children's Rights and the Legal Aid Foundation of Los Angeles to draft a complaint and brief for a case to be filed against the state over delays in its administrative hearing system.
Pastore and her students have also partnered on numerous cases with the Alliance for Children's Rights attacking systemic problems in foster care.
In selecting cases, Pastore keeps a keen eye on ones where "the students can do meaningful work with people that I like and respect and that I think the students will learn from."
Further, Pastore views her students as colleagues, banding together to not just win one case, but to work on cases that have a wider impact. "The students are not research assistants. They're not just writing research memos. They need to be drafting the complaint, drafting the brief or drafting the legislation. They each have their own responsibility, and they understand that they are part of a big team seeking change."
After 10 years of taking on cases, the word is out about Pastore and her team of law students within the nonprofit world, she says. "We're a free resource — a free lawyer and free students. Now we get more requests for help than we can handle."
And for the students, it's an experiential learning opportunity. "It's a whole process of how do you go from one person's problem (such as a hefty traffic fine) to discovering whether it's a widespread problem, to assembling a team, to putting together an advocacy strategy, to filing a case or writing a bill," she says. "So, it's a look at how systemic change happens and an opportunity for students to participate in that."
Inspiring Her Students

In the classroom, Pastore emphasizes connections to the real world. "I think students want to connect with: How does some procedural thing I'm learning relate to my interest in justice, civil society, the rule of law or dispute resolution?" she says. "I think they want to understand how those things go together, and I think that as a practitioner I can help do that."
Altman says: "Clare is a terrific teacher, but that isn't the most extraordinary thing about her. Her students admire her so much. Being with her and hearing how she talks about these issues and how they come to life in someone seeking justice through law really inspires them."
Former student Jen Flory (JD 2005), now a policy advocate at the Western Center, says she was inspired by Pastore's direct approach. "In class, you're often reading the cases and the theory. And then Clare would start grilling us, asking us what we were going to do, to get us to think through the process. What would the demand letter look like? What would our claims be? We learned to take the theoretical and break it down into practical steps to help the client.
"Years later, thanks to Clare, I still think about how to practically solve a problem."