Innovative undergraduate degree provides comprehensive foundation in law and legal infrastructure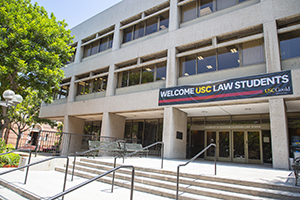 USC Gould announces new B.S. in Legal Studies
LOS ANGELES – With law becoming a more and more integral part of society, the University of Southern California's Gould School of Law has introduced a new undergraduate degree: the Bachelor of Science in Legal Studies. This innovative course of study prepares students to understand how law shapes modern culture and to explore emerging employment opportunities, while benefitting from a unique multi-disciplinary education.
The new B.S. in Legal Studies is the first four-year bachelor's degree at USC Gould to give undergraduate students a comprehensive background in legal infrastructure and the law, and examine their societal impact. The degree also provides the skills and knowledge to excel in a wide variety of roles that intersect with the law, yet don't require being a practicing attorney.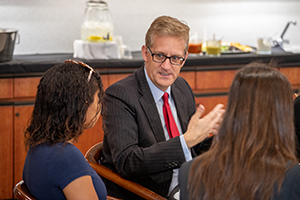 Dean Guzman with undergraduate students
"This new undergraduate degree underscores USC Gould's strategic vision and furthers the tradition of innovation, equity and excellence that is part of our history," says Dean Andrew Guzman. "Students who choose the B.S. in Legal Studies will be well-positioned for success in both the public and private sectors. An understanding of our legal system and the rule of law will be a powerful asset throughout their careers. The new program exemplifies the mission of USC Gould, dedicated to training students through interdisciplinary and clinical education in order to make impactful contributions to the world around them."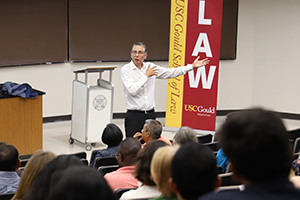 Professor Bob Rasmussen leads undergraduate education at Gould
According to Professor Bob Rasmussen, who oversees undergraduate education at Gould, while law is central to society, lawyers shouldn't be the sole gatekeepers of the legal system, and the legal profession should be a collaborative effort between attorneys and citizens educated on how law affects society.
"Law can't be left to lawyers alone. Part of the job of a great undergraduate education is to help people understand the society that they're going to be part of, that they're going to shape and that they're going to lead," Rasmussen says.
Currently, USC Gould offers more than 25 undergraduate law courses, in addition to its Legal Studies minor, a Law and Social Justice minor, a Law and Migration Studies minor, and a new Law and Technology minor. Students in Gould's minor programs come from more than two dozen majors at USC.  According to Maddy Zamany, Gould's director of undergraduate programs, the degree deepens the law school's popular undergraduate offerings.
Courses in the B.S. in Legal Studies program span multiple disciplines including technology, sociology and economics, with future plans to collaborate further with various schools and departments at USC on pressing global, national and local issues. Students also will be required to engage in an internship to bolster their practical experiences.