Highlights from 2018
Thursday, December 20, 2018
As the year quickly comes to a close, we look back at Gould's most notable moments
New Leaders In 2018, USC Gould welcomed John Iino (JD 1987), one of the nation's most respected global attorneys who is
committed to diversity and inclusion in the legal and academic space, to act as Chair of USC Gould's Board of Councilors. Iino is the first Asian-American Gould alumnus to be appointed to the esteemed position.
Meet the Firm Gould's Career Services Office hosted its 3thid annual Meet the Firm Night. This year's event defied expectations, hosting a record 52 national and international law firms, present to inform and prepare students for job searching and career building.
Dreams Came True Alumna Natasha Stassen's (LLM 2015) dreams became a reality with the help of USC Gould's Entertainment Law Certificate Program. After obtaining her degree, Stassen was able to obtain her dream job as manager of business and legal affairs at Annapurna Pictures.
Funding the Future The USC Saks Institute for Mental Health Law, Policy and Ethics, was gifted $3 million from the Doris Bry Trust. Founder Elyn Saks expressed her excitement for the future of the Institute, noting that the generous gift will not only makes the continuation of her work possible, but helps to illuminate both the struggles and triumphs of those who live with mental illness.
The Trojan Family Susan Kigawa (JD 1989), assistant chief counsel, New Technologies and Distribution at The Walt Disney Studios, shared her insider knowledge to guide current law students in the right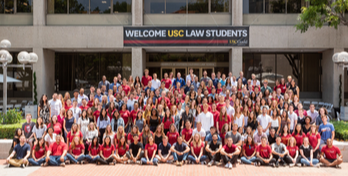 The members of this year's incoming class are some of the best and brightest.
direction for a successful career in entertainment law. "The loyalty that USC has to its own is simply amazing."
Getting an Edge USC Gould launched the Human Resources Law & Compliance Certificate, an online program available to both non-lawyers and lawyers designed to expand career opportunities for professionals looking to advance in their fields. Additionally, students were able to reap the benefits of Gould's exclusively online Master of Studies in Law Degree program.
A Record-Breaking Year USC Gould saw an 18 percent increase in first-year applications to the law school in 2018, more than double the national application volume increase of 8.7 percent. The class of 2021 is exceptionally competitive, with the median GPA at 3.78, the highest in Gould's history. Additionally, the median LSAT score rose to 166, securing this year's entrants as some of the best and brightest.
Honors Orin Kerr, an expert in criminal procedure and computer crime law, was named the Frances R. and John J.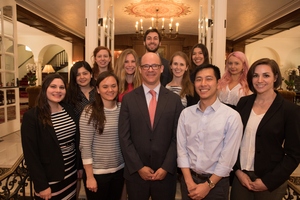 Prof. Orin Kerr an expert in criminal procedure and computer crime law, was formally installed as the Frances R. and John J. Duggan Distinguished Professor at Law.
Duggan Distinguished Professor at Law in 2018. Kerr was honored for his commitment to continued excellence in his field. His outstanding legal work and scholarship has appeared in more than 300 judicial opinions and 3,000 articles.
On Pages USC Gould's Fall/Winter 2018 Magazine offered details on some of the year's most notable alumni achievements, and events. Read it here, or pick up a copy of your own in the law school lobby.
- Kristy Hutchings
RECENT NEWS