JD Student Ambassadors
USC Gould School of Law is proud to have some of the nation's brightest and most promising future lawyers studying law here. We are privileged to have five students, Anahi Gonzalez, Matt Callahan, Raven Taylor and Taylor Ashton to work in the Admissions Office as Student Ambassadors. All lead very busy lives inside and outside the classroom as you can see from their profiles, but love sharing their law school experiences with prospects and admitted students.
If you are interested in learning more about their decision to attend USC Gould or if you would like to email one of the ambassadors, please click on their names to access their bios and contact information.
Taylor Ashton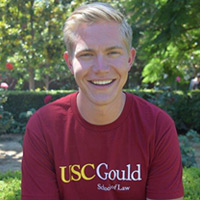 My name is Taylor Ashton, and I am a second-year law student at USC Gould. Although originally from the Midwest, I attended high school in Las Vegas, NV, and completed my undergraduate studies at the University of Arizona in Tucson, AZ, where I majored in Political Science and minored in Economics and Spanish. While in college I was actively involved in student government, Greek life, Arizona Ambassadors and the Honors College.
Moving to Los Angeles and starting law school at the University of Southern California was an easy decision that I am thankful to have made. I was initially attracted to USC Gould because of its great reputation and vibrant campus, but quickly realized that the USC Gould experience was much more. In just a year, Gould has allowed me to build lifelong friendships and study with world-class professors, all while being situated in one of the most exciting and opportunistic legal markets in the country. USC Gould provides opportunities and presents rewarding challenges that no other law school in the country does.
Aside from classes and studies, I am actively involved in the Entertainment Law Society and am in the USC Gould Mediation Clinic. I am also excited to be participating in the Hale Moot Court during the 2016-17 school year. I have found that many of the most rewarding law school experiences come from meeting others in your class and getting involved in outside activities. Additionally, taking advantage of the Trojan network and local Gould alumni can help make the most of the USC Gould experience, both professionally and personally.
Embracing the USC Gould experience extends past the walls of the law school. Tailgating for USC football games, eating my way through Los Angeles, maintaining my sub-par golf game, and taking advantage of the local beaches, are just a few of the ways I have enjoyed my weekends and adjusted to life in Los Angeles. Whether southern California is a lifelong home, or a new adventure, I recommend all first year law students to make the most of the opportunity and embrace life in LA.
Choosing the right law school is an important decision. For me, USC Gould has proven to be an ideal mix of great academics and a collegial culture, in an exciting city. If you are interested in visiting campus, sitting in on a first year class, speaking with students, or learning more about the admissions process, I encourage you to experience USC Gould for yourself and contact an Admissions Ambassador. We are happy to share our story and answer any questions you may have. I may be reached at ambassador1@law.usc.edu.
Matt Callahan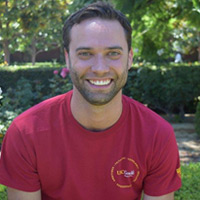 My name is Matt Callahan, and I am a third-year law student at the USC Gould School of Law. I am also a second-year student at the USC Viterbi School of Engineering where I am pursuing an M.S. in Computer Science. I moved around a lot growing up, living in New Jersey, Colorado, North Carolina, and Northern California. I graduated in 2007 from the University of North Carolina at Chapel Hill with a degree in mathematics. I then moved to Oakland, California to become a math teacher via Teach for America. I taught middle and high school in the Bay Area for five years before moving to LA to attend USC. I am a die-hard fan of the Golden State Warriors and North Carolina Tar Heels, and I am the reigning back-to-back champion of my fantasy football league. I am also an avid runner and a mean ping pong player, and I meditate twice a day (really!).
I chose USC over its peer institutions for a variety of reasons, but primarily because its small size and alumni network make it a job-opportunity powerhouse in Los Angeles. Coming into law school, I wanted to pursue a career in high-stakes civil litigation in either Los Angeles or San Francisco. USC has a stellar reputation for placing its students in both. The school's small size gives it increased leverage at on-campus interview and job-hiring opportunities. And the alumni network is exceptionally unified. Alumni partners are rampant at prominent law firms in Los Angeles and beyond, and they are consistently keen on hiring their own.
USC has allowed me to pursue my interest in litigation―and specifically, in intellectual property litigation―in innumerable ways. I have externed for federal judges twice―once at the district court level, and once at the Ninth Circuit Court of Appeals. I have also honed my written and oral argument techniques as part of the Hale Moot Court honors program. As a 2L, I wrote a journal article on patent law for the USC Business Law Advisor. (Notably, the Advisor is a completely student-run publication that my friend founded at USC in 2013.) This past summer I was a summer associate in the intellectual property litigation group at Morrison & Foerster LLP.
I would be remiss if I didn't point out how incredibly personalized a USC law education can be. Even though no university offers a dual degree in law and computer science, USC allowed me to design a five-year program in which I would complete both. It was my USC alumni mentor who helped design the semester-to-semester logistics of the program. And it was my USC evidence professor who encouraged me to present such an outside-the-box program to the administration.
Without question, attending law school at USC was one of the best decisions I have ever made. I have formed lifelong friendships and I have been incredibly well prepared for an exciting career. Of course, choosing a law school is a challenging and important decision, so I highly encourage prospective attendees to come to campus and visit with the students (and the ambassadors like me!). I am happy to answer any questions you may have about the university or about the law school application process in general. Feel free to contact me at ambassador5@law.usc.edu. I hope to hear from you!
Anahi Gonzalez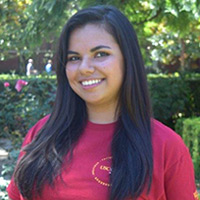 My name is Anahi Gonzalez and I am a second-year student at USC Gould. Born and raised a Texas girl, I moved to the Bay Area to study psychology at Stanford University. There, I was very active in the Latino community and served as President of the school's only Latina-interest sorority, Lambda Theta Nu Sorority, Inc.
Though many people advised me to take time off between undergrad and law school, I knew that going straight through was the right path for me. When it came down to choosing schools, it was the visit to USC Gould during an Admitted Student Day that helped me finalize my decision. Having made a major move once before, I knew that I needed to choose a school I could see myself living in for the next few years, in a city or region I could make home. USC Gould was the perfect fit for me. I'd lived in Los Angeles one summer during college and loved the infinite things you could do and explore in the city. Pair that with Gould's small class size and a faculty that genuinely cares about students and the choice was easy to make. Plus, you truly can't beat the Trojan family in terms of networking opportunities.
Through the USC Law Fellowship, I had the chance to split my 1L summer and do two different jobs this year. For the first six weeks, I was a summer associate at Sidley Austin (where I will be returning next summer). I got to work on some really amazing projects and I discovered that I have a huge interest in Labor and Employment law, something I did not know prior to this experience. During the last four weeks of summer, I worked as an intern for the in-house legal department of Toyota Financial Services. I was able to sit in on calls with clients and help draft employment policies that are being implemented now across the company. It was a truly enlightening experience to see how different practicing at a firm is from being in-house counsel, and I couldn't have done it without USC Gould.
Aside from being an Admissions Ambassador, I am the incoming president of the Latino Law Student Association. This group, like many others on campus, serves as a support system for the students at USC Gould and helps fosters the collegial culture that makes 1L so much less scary than people make it out to be. I will also be participating in the Hale Moot Court Honors Program this year.
USC Gould truly has become a home for me and the friends I made during 1L. I am excited to start this new year and get to be a part of the Admissions team and hopefully help a few more people find their place here. If you have any questions about the application process or would just like to learn more about what it's like to be a USC law student, please feel free to email me at ambassador3@law.usc.edu.
Raven Taylor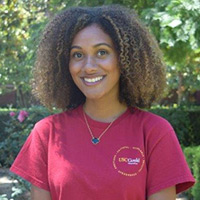 My name is Raven Taylor, and I am a second-year student at USC Gould. I was born and raised in a suburb of San Francisco called Redwood Shores, California. For as long as I can recall, I always dreamt of becoming a lawyer. I went to an all-girls high school where I played many sports and was on the mock trial team. After graduating from high school I attended Howard University in Washington D.C. where I majored in Political Science with a minor in Sports Management. While at Howard University I joined Delta Sigma Theta Sorority, Inc. Alpha Chapter. I was also in the College of Arts and Sciences Honors Program, Political Science Honors Society, and I participated in and won a number of essay contests.
Always knowing that I wanted to go to Law School, I knew that I wanted to go directly after graduating. After graduating from Howard University in 2015 when it came time to choose which law school I would attend in the fall, USC Gould always stood out against the other Top 20 law schools that I was considering. Having lived on the east coast for four years I knew that I wanted to come back home to California, and being interested in entertainment law USC seemed like a great fit. I was sold when I visited the campus. USC has a quintessential California feel- the people are friendly, the weather is warm and it seemed like the perfect environment for all the positive energy that is required to stay focused and positive during law school. Much to my satisfaction, USC Gould has been the perfect home for me.
I have met so many fantastic people from all over the country, and even the world who share a common passion for the law. The professors and faculty have all surpassed my expectations and there are so many people on campus who genuinely want to see Gould students succeed. For example, I am always in the Career Services Office and each and every one of the officers is committed to helping us with whatever it is we may have questions with. This past summer I worked as a Law Clerk at FOX Sports in their Business and Legal Affairs Department. Leading up to my interview, career services sat down with me and made sure I was ready for the interview. Having the necessary support when searching for jobs in the legal field is essential and career services always goes above and beyond to make sure the students at Gould are being supported.
Here at USC Gould, there is something for everyone. This year I will serve as the Black Law Student Association President, I also am a member of the Entertainment Law Society, and the Intellectual Property and Technology Society. No matter how broad your interests are, you will have no problem finding an organization that sparks your interests. USC Gould has proved to be a fantastic law school and I couldn't be happier with my decision. I encourage you to come visit our beautiful campus and see for yourself what a great place Gould is. If you have any questions please feel free to contact me at ambassador4@law.usc.edu. I hope to hear from you!